Associations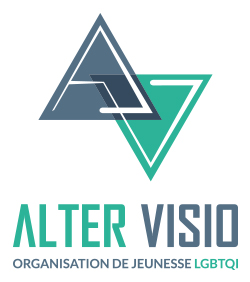 Alter Visio
Alter Visio is a youth organisation recognised by the Fédération Wallonie-Bruxelles (Wallonia-Brussels Federation). We work with young people and youth workers in order to facilitate their integration into the community and to develop responsible attitudes that are active, critical, supportive and open to human diversity, especially with regard to sexual orientation, gender and gender identity. 
By organising many socio-cultural activities, Alter Visio allows young LGBTQI people to meet, to learn about issues affecting them and to benefit from talking and listening to the team and volunteers. 
For this reason we offer different activities
activities for young people; 

training for professionals in the youth worker and education sectors ;

raising public awareness during demonstrations ;

creating projects for and by young people;

producing educational articles or materials;
Our team is in regular contact with actors in the youth, lifelong learning and health promotion sectors to promote global inclusion of the diversity of sexual orientation and gender identity in all our activities. 
We offer a free confidential counselling service for young people every Wednesday afternoon in Brussels, Ottignies and Mons (preferably by appointment)! If you want to contact us:
Telephone : 02/893 25 39
Site internet : http://www.alter-visio.be/
Mail : info@alter-visio.be
Facebook : https://www.facebook.com/AVisionasbl/?fref=nf