Associations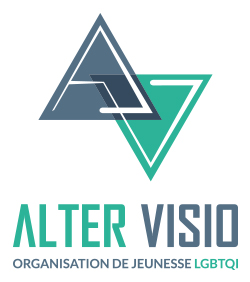 Alter Visio
Alter Visio is an organisation for youngsters recognised by the Walloon-Brussels Federation. We work with youngsters, and with those who professionally deal with youngsters, in order to promote their participation in social life and in citizenship, within a responsible, active, solidary attitude that is open to mankind's diversity, in particular the theme of sexual orientations, genders or gender identity.
By organising numerous socio-cultural activities, Alter Visio makes it possible for LGBTI+ youngsters to meet one another, to inform one another about the themes that affect them, and to take advantage of the sympathetic ear of the volunteer team.
In that respect we offer various actions:
entertainment

aimed at the youngsters;

training

aimed at professionals in youth work and education;

sensitization

of all public during major events;

creation

of projects for and by youngsters;

development

of pedagogical articles and tools;
The Alter Visio team frequently cooperates with the joint parties in the field from the sector of youth work, permanent training, and health promotion so as to enable an actual overall inclusion of the diversity of sexual orientations or gender identities in the heart of the whole of actions organised aiming at all youngsters.
We also offer counselling sessions with a sympathetic ear. These are freely accessible for all youngsters in intimate surroundings each Wednesday afternoon in Brussels, Ottignies and Mons (we prefer an appointment)! If you wish to contact us:
Telephone: 02/893 25 39
Internet site: http://www.alter-visio.be/
E-mail: info@alter-visio.be