Projects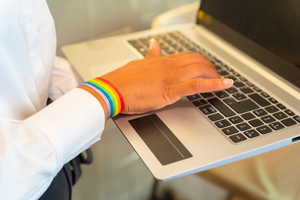 Rainbow For A Job
The meeting point for inclusive employment
Are you questioning yourself about your professional future? To follow a trainig? Find a student job? An internship ? Or maybe to make a professional reorientation?
Would you like to be accompanied and guided to make this process less stressful?
Register now and start your guidance process completely free of charge.
Sign me up :  https://forms.gle/eXfXBbm2WsZLWn4A9
Rainbow for a job is a pilot project for LGBTQIA+ and LGBTQIA+ people with migration background, which aims to provide follow-up in a SAFE space while reinforcing intersectional objectives.
The objectives 
To offer complementary and specific support to job seekers and to strengthen the mastery of tools.
To prepare and experiment with a peer/mentoring process.
To facilitate meetings between employers and jobseekers in connection with employment support/employment structures.
The method
In a context of awareness of discriminatory borders, the main tools supporting the project are job coaching, accompaniment and mentoring, in order to promote the matching of supply and demand. This method should enable each person to be in a "SAFE" place.
The tools
Methodological workshops (empowerment, participation, social and professional skills…),
Job days
Conferences
Training
Accessibility
The project is free of charge for all LGBTQIA+ people who wish to have a personal follow-up. This follow-up is free and confidential. In order to be able to welcome all LGBTQIA+ people, whether they are Belgian citizens, Europeans, expats, refugees, migrants, etc., the project is mainly available in French, Dutch, English and Spanish.
Become a volunteer for Rainbow for a job
Are you looking to get involved in a project with a social meaning and to support someone in their job search process?
Join Rainbow for a Job and support someone in their job search. Together, we will shape a more diverse professional future.
Register as a volunteer : https://forms.gle/BHDGL7oaWJoqQGq1A
This project is financed for the year 2023 by the Federal Secretariat for Equal Opportunities.