Associations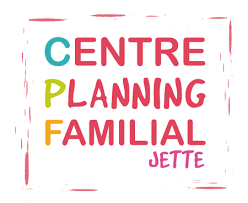 Centre Planning Familial de Jette
Le planning familial de Jette welcomes everyone, whatever their social and cultural origins, philosophical and religious convictions, sexual orientation or gender identity. The team composed of general practitioners, gynaecologists, psychologists, marriage and family counsellors, lawyers/family mediators, social workers and receptionists enables us to respond to your various requests in one place.
Our work focuses on prevention, support and treatment of relational, emotional and sexual problems.
In a climate of discretion and confidentiality, the team guarantees you a welcome centred on respect, absence of judgement, the guarantee of your rights, solidarity and freedom.
Contact
Telephone: +32 2 426 06 27
Mail: info@planningdejette.be
Website: https://www.planningdejette.be/