Projects
POLITICAL WORK (translation not available)
GEËNGAGEERDE WOORDVOERDER
Als woordvoerder van de LGBTQI+ beweging van Brussel vormt de koepel, met de twee andere Belgische koepels, çavaria en Arc-en-Ciel Wallonie, een samenwerkingsverband dat zich ertoe verbindt de belangen, de emancipatie en de rechten van LGBTQI+ personen te verdedigen en te bevorderen op alle politieke niveaus. ILGA-Europe en TGEU, onze Europese koepels, zijn onze belangrijkste partners op internationaal niveau.
Eisen 2020 rond gezondheid betreffende personen die lesbisch, gay, biseksueel, transgender, queer of intersex zijn.
# WECARE #EISEN2020
De voorbije decennia werden de rechten van holebi's, transgender en intersekse personen sterk verbeterd. Wel is er nog steeds hoge nood aan een meer inclusieve maatschappij en hulpverlening. Welzijn betekent niet enkel fysiek gezond zijn, ook het psychologisch en sociaal aspect zijn uiterst belangrijk. Met #WeCare, zoals gekozen door de drie regionale koepels, RainbowHouse Brussels, Arc-en-ciel Wallonie en çavaria, vestigen we een grote aandacht op het tal van uitdagingen waaraan gewerkt moet worden, zoals de steun voor mensen met HIV en een toegankelijke gezondheidszorg voor transgender personen en sex workers. Sommige RainbowHouse lidverenigingen zijn experts op dit gebied (namelijk Exaequo, UTOPIA_BXL, Genres Pluriels, Utsopi,). Laten we samen de gezondheid van LGBTI+ personen in al haar aspecten verbeteren!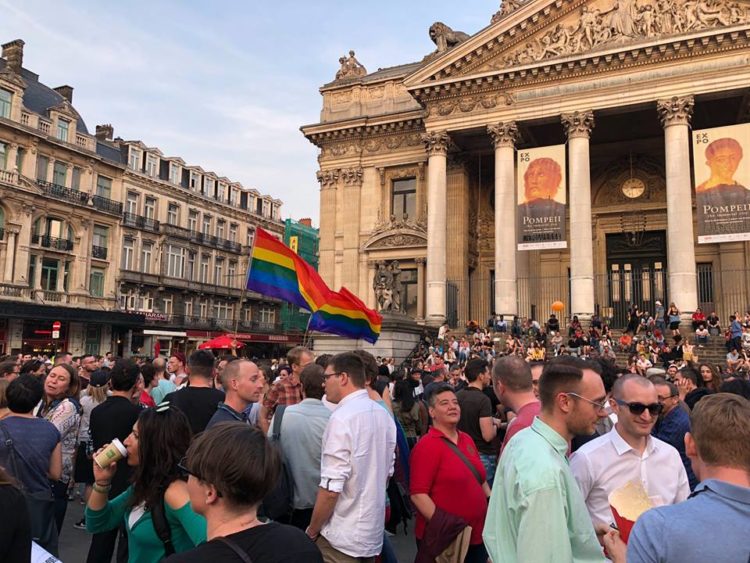 #EISEN2019 : Laten we België kampioen maken in Gelijke Kansen ! Onze eisen voor de federale verkiezingen.
België, kampioen inzake LGBTQI+ ? We horen het vaak. In 2018 eindigde ons land op de tweede plaats in de Rainbow Europe Index van onze Europese koepel ILGA-Europe in termen van wettelijke garanties voor lesbiennes, homo's, biseksuelen, trans* en intersekspersonen(LGBTQI+ personen).1
We zijn ons bewust van de vooruitgang die de afgelopen jaren op legislatief vlak is geboekt. Zij bieden een nuttig juridisch kader voor steeds meer mensen die zo hun grondrechten kunnen afdwingen.Onze eisen voor de verkiezingen van 2019 onderstrepen echter dat deze vooruitgang slechts een eerste stap moet zijn. We vragen politici om rekening te houden met de realiteit van LGBTQI+ mensen. Net als bij andere vormen van discriminatie (racisme, seksisme, enz.) is de huidige wet een noodzakelijke voorwaarde, maar verre van voldoende om echte gelijkheid te waarborgen, waarbij in alle opzichten de Yogyakarta-bginselen en
Yogyakart plus 10 worden toegepast.2 (meer lezen)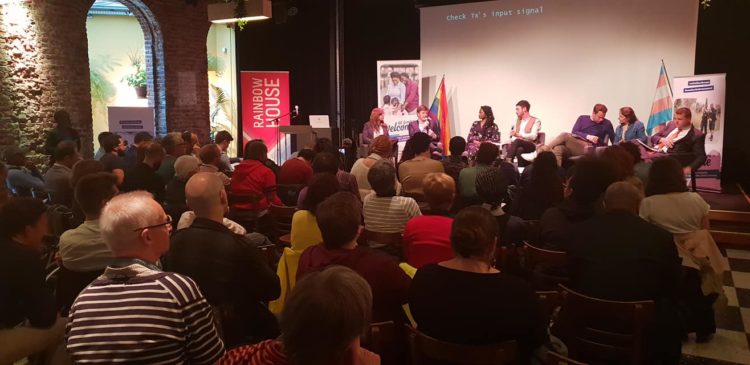 LEES OOK : RAINBOWHOUSE BRUSSEL ONDERVRAAGT DE PARTIJEN OVER HUN PROGRAMMA
#YourLocalPower #Eisen2018
Onze eisen voor gemeentelijke en lokale autoriteiten, in het kader van de Pride 2018 en de voorbereiding van gemeenteraadsverkiezingen.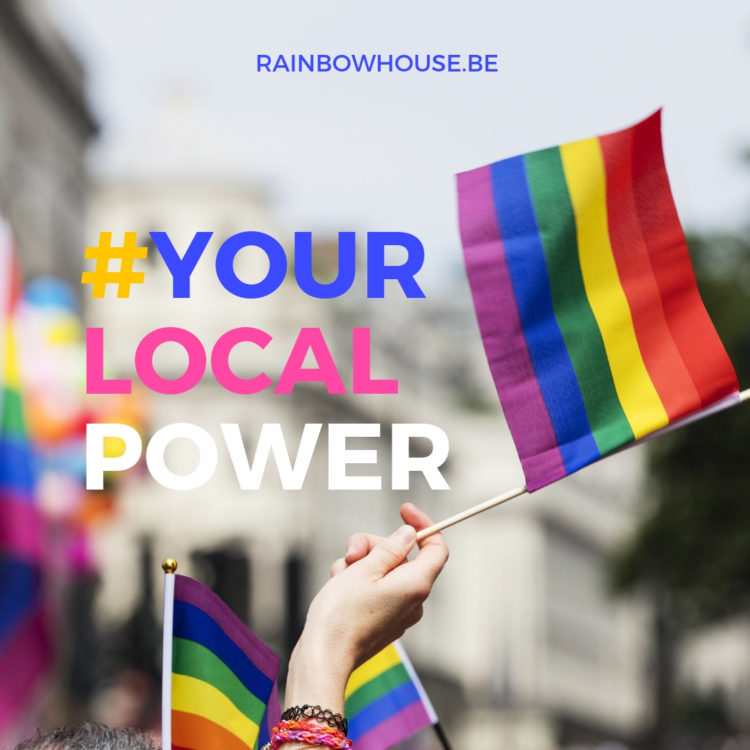 #YourLocalPower
Het leven van mensen speelt zich in de eerste plaats af in hun straat, wijk, gemeente of stad. Het maakt niet uit of men er tijdelijk of definitief verblijft. Een lokaal beleid heeft dus een enorme impact op het dagelijks leven van de inwoners, waaronder ook de LGBTQI+ gemeenschap. In 2018 zet de Belgian Pride daarom de steden en gemeenten in de spotlights en die spotlights hebben in dit geval alle kleuren van de regenboog!
Op federaal en sociaal niveau hield men zich de laatste 15 jaar vooral bezig met een verbetering van de wetgeving om gelijkheid en respect voor LGBTQI+ personen te verbeteren. Onze wetten hebben een grote stap voorwaarts gezet maar de samenleving volgt niet altijd hetzelfde ritme. We merken dat het welzijn en het veiligheidsgevoel van LGBTQI+ personen er niet op vooruitgaat, zoals aangetoond door studies van het Europees Bureau voor de grondrechten (FRA).  Heteroseksualiteit blijft de norm en het binaire vrouw-man denken blijft sterk verankerd en wordt in stand gehouden in de mentaliteit van de mensen. Meer dan de helft van de LGBTQI+ personen durft nog steeds niet uit de kast te komen op het werk. De zelfmoordcijfers bij LGBTQI+-personen blijven zeer hoog, vooral bij adolescenten. De gebruikelijke reactie na elke vorm van homo- lesbo-, bi-, trans- of interfobe agressie op straat blijft : « Het zou beter zijn als jullie nergens hand in hand lopen »  De meest kwetsbaren onder ons worden het meest getroffen en zijn het vaakst slachtoffer van deze discriminaties. (Meer lezen)