Calendar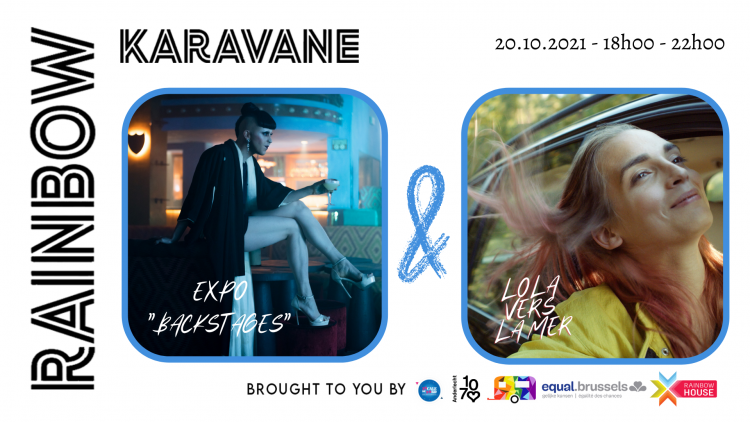 Opening expo "Backstages" par Deborah Gigliotti & Ciné-Débat "Lola vers la mer" ★ Rainbow Karavane
Escale du Nord
18:00
Wednesday 20 October 2021
EN > (this event is in French)
Looking for a cultural evening with an LGBTQI+ theme outside the city center? L'Escale du Nord and the RainbowHouse offer you a vernissage and a movie debate as part of the Rainbow Karvane*:
On the program:
6PM: Opening of the exhibition "Backstages" of Deborah Gigliotti in the bar with a drink of friendship
7PM: projection of "Lola vers la mer" (87′):
8:30 pm: animation / intervention on transidentity by Clay Pier of CHEFF (60′)
"Backstages" presents the backstage of Brussels' burlesque, transformist and drag cabarets. For 5 years, the artist has had the privilege of capturing what happens behind the curtains, partitions, stairs and walls that separate the stage from the backstage area.
About the film "Lola to the Sea": Lola, 18 years old, bleach blonde hair, lives in a foster home with Samir, her only friend. Impulsive and lonely, she is trying to get her diploma as a veterinary assistant. When her mother passes away, her father Phillip makes sure that Lola will miss the ceremony. Two years before that, Philip was throwing her out of the family home: at the time, Lola was still Lionel – Philippe is determined to fulfill Catherine's last wish: to be dispersed to the North Sea, in the dunes of her childhood home. Lola on the other hand is furious against her father, but she will not leave her mother alone in this last journey. So they take off together, both unwilling to share a car but determined to take Catherine home.