In the picture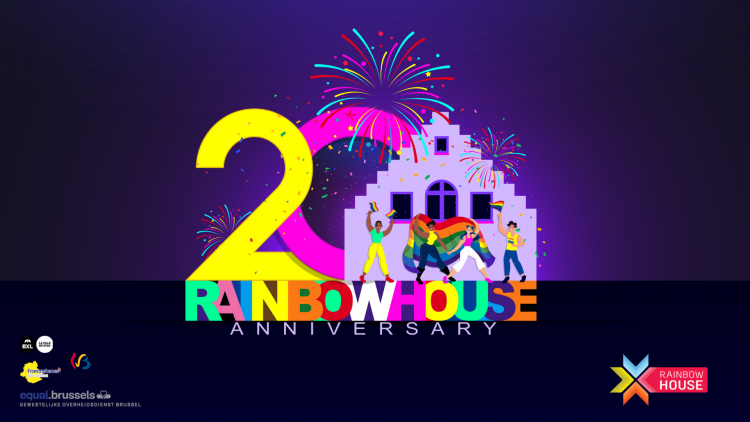 The RainbowHouse Brussels is 20 years old! It's a celebration!
published on 28 October 2021
Friday October 29th
Where: La Bellone – Rue de Flandre / Vlaamesteenweg 46, 1000 Brussels
13h Panel 1: "Engaging in the LGBTQIA+ community: volunteering and activism, state of play and future".
It is thanks to those who, through culture, activism and volunteering, commit themselves to this community on a daily basis, that the rights of this community have been able to evolve in society, but are also debated daily within it. The panel will bring together exceptional speakers who will talk about their experience, their journey as committed people, the crossing of the views of this diverse panel will have a view of the multiplicity of the commitment.
Speakers
Kis Keya: Afroqueer filmmaker and activist
Nathalie Leenen: Rainbowhouse volunteer
Andy Lors: LIGBTQIA+ activist and HIV activist
Ahmed Betlabi: Ex-Aequo and InQlusion volunteer
Chille Deman: Co-founder Rainbowhouse
Clément Dallex Mabille: cultural worker and queer activist
Registration: https://www.eventbrite.com/e/sengager-dans-la-communaute-lgbtqia-volontariat-et-veritable-inclusion-tickets-191846135957?fbclid=IwAR066BJfxsyKhQRUij6kuhUk90s3qYgcSYH4XN4oy9FV1XoQSE5o4yc4oNo
4pm Panel 2: "Thinking about inclusion in our structures: safe spaces for LGBTQIA+ asylum seekers"
How do we think about real inclusion in our settings for asylum-seeking audiences? How do we create truly inclusive and safe structures for them?
Speakers:
Aïda Yancy, Afro-feminist, anti-racist and LGBTQIA+ activist, expert on race, gender and sexuality issues.
Jean-Daniel NDIKUMANA: expert on the situation of LGBQTI in Francophone sub-Saharan Africa. Also member of the GERIS team at the European Commission working on religion and diversity. Legal President of the EDDIB association in Burundi
Places limitées: 100 / Beperkt aantal plaatsen: 100
19h: Welcome and speeches
19h15: Round table with the different Rainbow Houses of the country
Evolution of the struggles and realities of the country's MACs over the last 20 years, moderated by Margo Otten.
With: Unique Leuven, Het Roze Huis Antwerpen, Regenbooghuis Limburg, Casa Rosa Gent, Maison Arc-en-Ciel Virton, Maison Arc-en-Ciel Namur, Maison Arc-en-Ciel Verviers, RainbowHouse Brussel
20h45: Reception
–
Saturday 30th October
RainbowHouse, rue du Marché au Charbon,42
From 18h30 Party with Sing Out, Mamaliga, Balkan Party, DJ Melissa Juice,…
–
Sunday 31 October/ Zondag 31 oktober
Room 'Marsha P. Johnson' Rue de la Chaufferette 3, 1000 Brussels : RainbowHouse
14h30 – 17h: participative history workshop: The pioneers of the LGBTQI+ movements
5pm – 7pm: Closing reception with birthday cake, at the RainbowHouse Bar.
Covid Safe Ticket is required
some useful information.
WHAT IS A VALID COVID SAFE TICKET?
If you have a complete vaccination schedule.
By presenting a NEGATIVE PCR test that is less than 48 hours old (date and time of collection).
By presenting a NEGATIVE ANTIGENIC test less than 24 hours old (date and time of collection)
By having a certificate of cure with a positive PCR test (more than 10 days and less than 180 days). Via the CovidSafeBE application or to be printed via the federal website MaSanté.be
No test will be organized on site.
HOW TO GET YOUR COVID SAFE TICKET?
If you have a smartphone, you can download the CovidSafeBE application from Google Play on Android smartphones or from the App Store on Iphone.
You will be securely authenticated via the eHealth portal or via the ItsMe app.
On this app, you will find your vaccination certificates, test results (PCR and antigenic performed by a pharmacist) and your recovery certificate (if you contacted and were cured of COVID-19).
If you do not have a smartphone, the COVID SAFE TICKET can be printed via the MaSanté.be website in the "Health data" tab, then click on "My COVID European digital certificate". If it is a two-dose vaccine, make sure you print the certificate issued for the second dose.
If you do not have a smartphone or internet access, you can request your vaccination or recovery certificates by contacting these regional numbers
Wallonia: 071 31 34 93
Brussels: 02 214 19 19
Flanders: 078 78 78 50
German-speaking Community: 0800 23 0 32
This event is possible thanks to :
The City of Brussels – De stad Brussel, Equal Brussels, Cocof (+ logos).
ER/VU : RainbowHouse / Jean – François Cannoot
–