In the picture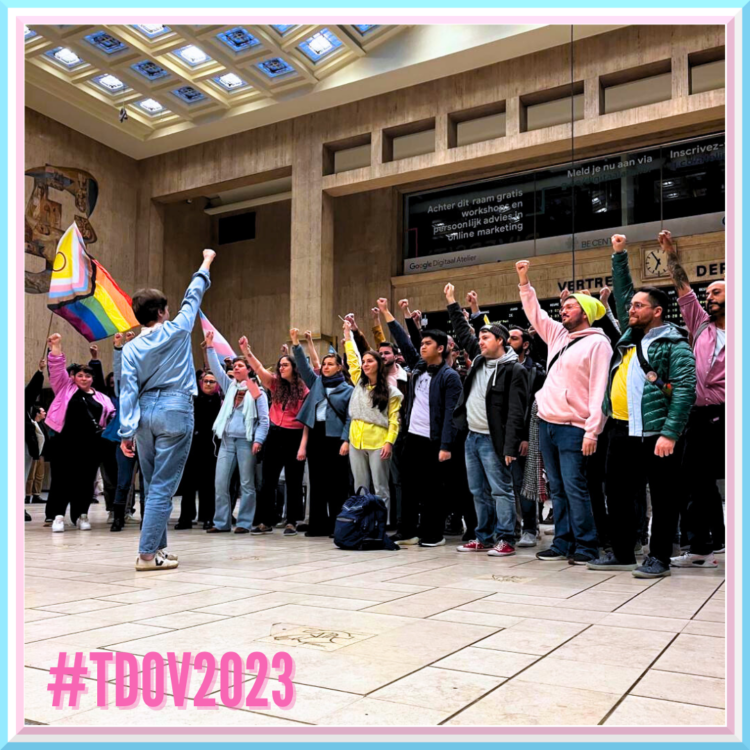 Flash Mob Sing Out Brussels #TDOV2023
published on 14 April 2023
March 31st was International Transgender Day of Visibility! 
Every year, the day celebrates the existence and visibility of trans* people as well as the fights to improve their rights and recognition. 
On this occasion, the association Sing Out Brussels proposed a song intervention in the Central Station. The Queer choir sang the song "I Am Her" by the artist Shea Diamond. With this interpretation, the association reclaims the public space which is still too often a source of danger and violence for trans* people. 
If you weren't there that day, you can still see this performance! It was entirely filmed and you can click here to see this activist performance! 
This activist flash mob is also part of our "Rainbow Visibilities" project, in collaboration with COCOF. This project aims at networking, knowledge exchange and representation of the LGBTQIA+ community. 
Upcoming days of visibility are: 
April 26: International Lesbian Day of Visibility. 

July 14: International Day of Non-Binary People. 

September 23: Bi and Pan Day of Visibility. 

September 26: Intersex Day of Visibility. 

December 3: Day of Persons with Disabilities (and LGBTQIA+). 
Your association wants to make a project proposal for one or more of these days? Any socio-cultural activity (film screening, exhibition, performance, …) is eligible. 
You can find all the information about this call for projects here! 
Congratulations again to the members of Sing Out for their performance! If you also want to take part in this LGBTQIA+ visibility movement, we are waiting for your proposals!