Calendar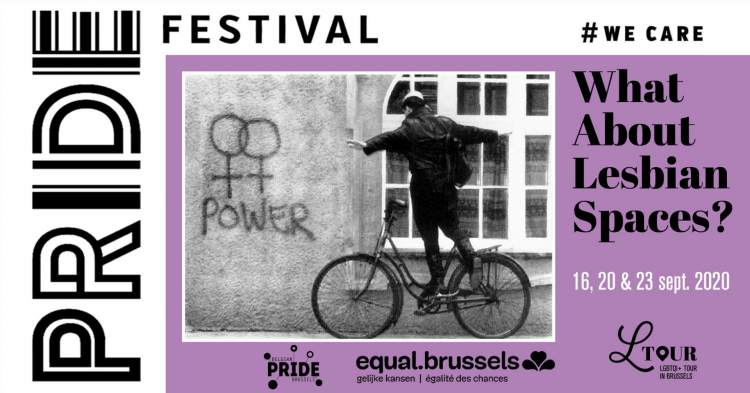 Conferentie: « En de vrouwen? Welke (niet-)zichtbaarheid van lesbiennes in de (sociale) media? » ☆ PrideFestival
L-Tour
Beursschouwburg
18:00 > 22:30
Wednesday 16 September 2020
Conferentie: « En de vrouwen? Welke (niet-)zichtbaarheid van lesbiennes in de (sociale) media? » ☆ PrideFestival
Prix / Prijs / Price : gratuit / gratis / free
Langue / Taal / Language : FR / NL / EN
Inscription / Inschrijving : obligatoire /verplicht / compulsory => info@l-tour.be
Accessibilité / Toegankelijkheid / Accessibility * : oui (voir ci-dessous) / ja (zie hieronder) / yes (see below)
======================================
This cycle of 3 conferences organized by Marian Lens (L-tour) will explore the theme of lesbian/lesBIan spaces through different reading grids. For each conference, expert speakers have been invited to speak on specific themes (see program below). Each conference will take place in a different language (NL, FR, EN).
COVID19 measures: the wearing of a mask is mandatory. The capacity of the rooms may be reduced. Conferences will be recorded and broadcast online.
Au programme / Op het programma / On the program:
NL – Woensdag 16 september 2020 – Waar: Beurschouwburg
18:00 – 19:00 Onthaal. Drank-hapjes.
19:00 – 20:30 Conferentie: "En de vrouwen?" – Lens Marian (Sociologist); "Welke (niet-)zichtbaarheid van lesbiennes in de (sociale) media?" Dr Cecil Meeusen (KU Leuven) en Dr Laura Jacobs (Universiteit van Amsterdam)
20 :30 – 21:30 Debat-vragen
21:30 – 22:30 Verdere discussies. Drank-Hapjes
FR – Dimanche 20 septembre 2020 – Lieu : LaVallée
17:30 – 18:30 Quels espaces lesbiens ? – Lens Marian (sociologue) et Aïda Yancy (historienne)
Quels espaces existent pour les minorités les plus fragilisées au sein des communautés LGBTQI+,
par ailleurs cumulant différents types de discriminations/inégalités ?
18:30 – 19:30 Débat
19:30 – 20:30 Poursuite des discussions. Drinks & Food
Cette conférence est précédée d'une autre: "Espaces publiques, Affaires Privées : Quelle place avaient les lesbiennes et les gays dans la ville du XIXe à la fin du XXe siècle ?"
EN – Wednesday 23 September 2020 – Venue : Beursschouwburg
18:00 – 19:00 Drinks & Food
19:00 – 20:30 Conference – What About Lesbian Spaces? – Lens Marian (Sociologist) et Aïda Yancy (Historian)
Why Do Lesbians Remain so Invisible in most of the (Public) Spaces?
20 :30 – 21:30 Debate
21:30 – 22:30 Free discussion. Drinks & Food
================================
* Accessibilité / Toegankelijkheid / Accessibility
FR// Accessibilité pour les personnes à mobilité réduite . Cette année, nous mettons en place un système de "buddies" pour les personnes qui souhaiteraient être accompagnées par un.e bénévole, plus d'informations sur
http://rainbowhouse.be/fr/projet/pridefestival/
.
NL // Dit heeft te maken met de bereikbaarheid voor personen met een beperkte mobiliteit . Dit jaar, zetten we een systeem van "buddies" op poten voor wie graag begeleiding krijgt van een vrijwilliger. Meer info op
http://rainbowhouse.be/nl/projet/pride-festival/
====================================
Disclaimer COVID19:
FR // Toutes les activités du PrideFestival sont encore susceptibles de changer. Tous les changements seront communiqués sur les événements Facebook, ainsi que sur le site internet de la RainbowHouse.
NL // Alle PrideFestival activiteiten zijn nog steeds aan verandering onderhevig. Alle wijzigingen zullen worden gecommuniceerd op de Facebook-evenementen, evenals op de RainbowHouse-website.
EN // All PrideFestival activities are still subject to change. All changes will be communicated on the Facebook events, as well as on the RainbowHouse website.
In connection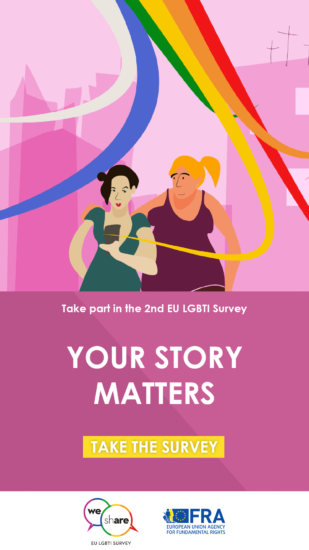 YOUR STORY MATTERS!
Besides occasional news reports about discrimination against lesbian, gay, bisexual, trans and intersex (LGBTI) people, there is very little comparable...
publié le 29 September 2017
---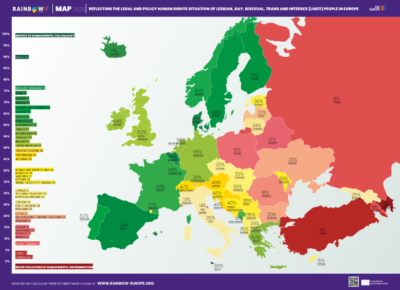 ILGA Report: How to interpret the data?
The ILGA report was released almost two weeks ago. It has been quoted many times during the official speeches at...
publié le 29 September 2017
---