Calendar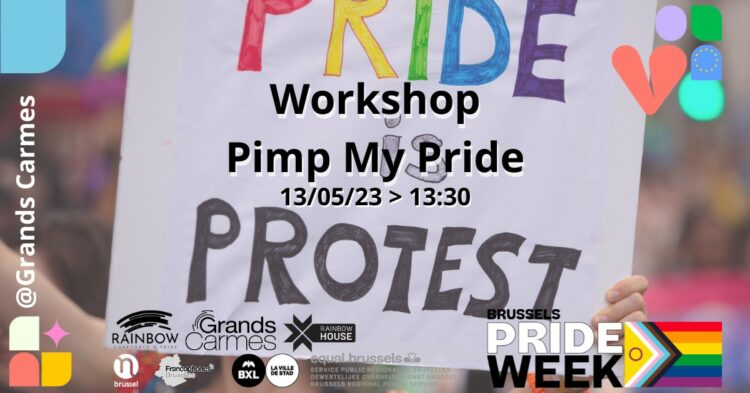 Pimp My Pride – Brussels Pride Week
Grands Carmes
Saturday 13 May 2023
The Brussels Pride march is on May 20th. On this date, LGBTQIA+ associations, activists and collectives will march in the streets of Brussels to remind our claims. This year the theme of the Pride is "Protect The Protest".
The "Pimp My Pride" workshop is organised one week before the march to create your own signs, slogans, songs, …
To participate, come to Grands Carmes with your cardboard, paint, staples, brushes, sticky paper, …
The afternoon will be animated by the RainbowHouse Brussels team.
Contacts :
Flo : Flo@rainbowhouse.be
Lucien : Lucien@rainbowhouse.be
• 13/05/2023 – 13:30
• Grands Carmes, rue de Grands Carmes 20,22, 1000 Brussels
• Free price
• Difficult access for PRM
• Workshop (75 to 85db) FR/NL/EN
• Free seating (seated and standing)
• All public
• Metro : 1,5 De Brouckère
• Tram: 3, 4, Bourse-Beurs
• Train: Bruxelles-Centrale
• Bus: 95 Grand-Place
• Materials to bring: your own cardboard, paint, staples, brushes, sticky paper, …