Calendar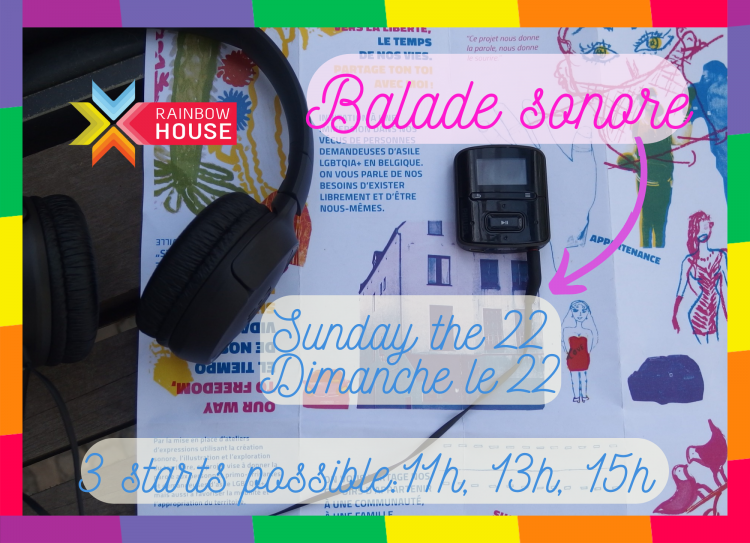 Walking podcast – 'Pas à pas' – Our way to Freedom, el tiempode Nossas vidas.
RainbowHouse
11:00
Sunday 22 May 2022
After several months of meetings, exchanges, sound expression and illustration workshops, we are eager to present the Sound Walk: Our Way to Freedom, El tiempo de Nossas vidas. Shariqna Nafseq!
Our way to freedom, the time of our lives. Share your you with me!
A creation made with the group: Les gast InQlusion 2021-2022.
A sound, spatial and sensory journey that will plunge you into Brussels City through the experiences of LGBTQIA+ asylum seekers in Belgium.
"We share with you our hopes of belonging to a community, to a family. We testify to make you hear that our rights are human rights and to make you walk alongside us. We tell you about our needs to exist freely and to be ourselves!"
A walk in French and English.
Tigger Warning: #lgbtqia+phobia, #racism, #sexual violence, #suicide.
This Sunday, May 22nd – 3 possible departures: 11am – 1pm – 3pm!
Duration of the walk is about 1h30!
Free but registration needed (limited group): https://form.jotform.com/221296155795364
Meeting point: Rainbow House, rue du marché au charbon 42; 1000 Bxl.
The day will end with an open stage and sharing with all participants!
A project of Urbanisa'son in partnership with Rainbow House, Ma tête est pleine d'endroits and Giulia Vetri. Realized with the support of Equal Brussels and cocof!