Calendar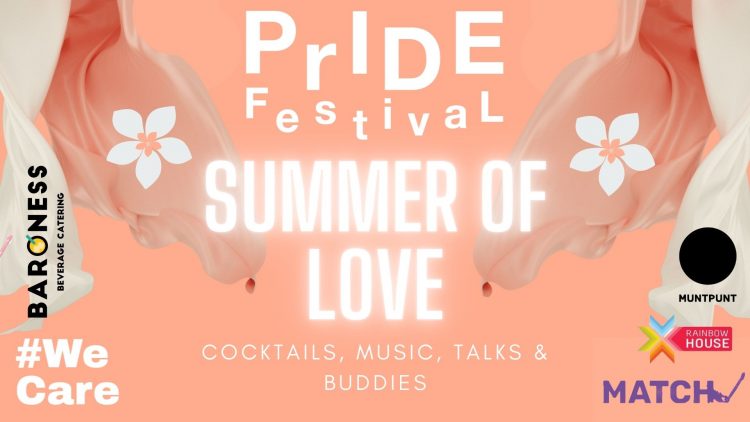 Summer of Love with MATCH // PrideFestival 2021
Muntpunt
15:00
Friday 06 August 2021
𝐀𝐬 𝐩𝐚𝐫𝐭 𝐨𝐟 𝐭𝐡𝐞 𝐏𝐫𝐢𝐝𝐞 𝐅𝐞𝐬𝐭𝐢𝐯𝐚𝐥 𝟐𝟎𝟐𝟏 𝐌𝐚𝐭𝐜𝐡, 𝐌𝐮𝐧𝐭-𝐏𝐮𝐧𝐭 𝐚𝐧𝐝 𝐑𝐚𝐢𝐧𝐛𝐨𝐰𝐡𝐨𝐮𝐬𝐞 𝐢𝐧𝐯𝐢𝐭𝐞 𝐲𝐨𝐮 𝐭𝐨 𝐚𝐧 𝐞𝐱𝐜𝐞𝐩𝐭𝐢𝐨𝐧𝐚𝐥 𝐅𝐫𝐢𝐝𝐚𝐲: 𝐒𝐮𝐦𝐦𝐞𝐫 𝐨𝐟 𝐋𝐨𝐯𝐞!
Enjoy an afternoon-evening of music, fun, language exchange & self care moments. Join our buddy game, learn a new language, new ways of self care and get to meet new people.
Relax in the sun at Munt-Punt with cocktails by BARONESS & foooood by Ahla Tun catering. (to be confirmed)
The program: more info very soon!
IMPORTANT:
> If you would like to participate with our buddy system or come and watch the match talks, registration is needed. More info very soon.
> If you have any questions and/or requests in terms of accessibility, please do not hesitate to contact us at matchbelgium@gmail.com or at 04 93 18 43 92 (sms or whatsapp).
> 𝐅𝐫𝐞𝐞 𝐞𝐧𝐭𝐫𝐚𝐧𝐜𝐞, 𝐛𝐫𝐢𝐧𝐠 𝐲𝐨𝐮𝐫 𝐠𝐨𝐨𝐝 𝐦𝐨𝐨𝐝. 𝐂𝐨𝐦𝐞 𝐚𝐬 𝐲𝐨𝐮 𝐚𝐫𝐞!
What is Match?
Match is an non-profit organization that focuses on all sorts of womxn and non-binary people who are somewhere on the LGBTQIA+ spectrum. We always welcome friends, allies (it doesn't matter their gender or sexuality), as long as people bring their positive vibes.
Match wants to get more different types of people* at the decision table in every sort of industry/business/domain in life. At Match, we empower and support each other. We create new meeting places and we encourage everyone to network. Last but not least, Match is also a stage/platform for more role models, so that everyone can see themselves represented.
* more womxn, more non-binary people, more people of colour, more people with disabilities, more lgbtqia+ people,..
#KindnessIsOurLanguage #SupportEachother #BeYourself
𝘌𝘷𝘦𝘳𝘺𝘰𝘯𝘦 𝘪𝘴 𝘸𝘦𝘭𝘤𝘰𝘮𝘦 𝘢𝘵 𝘰𝘶𝘳 𝘦𝘷𝘦𝘯𝘵𝘴, 𝘫𝘶𝘴𝘵 𝘣𝘳𝘪𝘯𝘨 𝘺𝘰𝘶𝘳 𝘱𝘰𝘴𝘪𝘵𝘪𝘷𝘦 𝘷𝘪𝘣𝘦𝘴. 𝘗𝘭𝘦𝘢𝘴𝘦 𝘣𝘦 𝘬𝘪𝘯𝘥 𝘵𝘰 𝘦𝘢𝘤𝘩 𝘰𝘵𝘩𝘦𝘳.
What is Munt-Punt ? Munt-Punt is the largest Dutch library in Brussels, it welcomes us in its outdoor space 'Leesstraat' for exchanges; as well as inside and on the terrace for the rest of the festivities.
In connection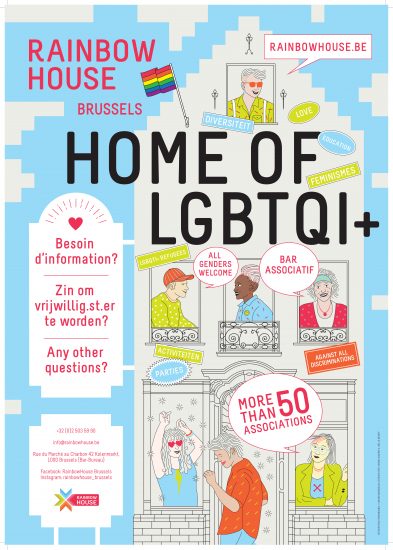 Take part in our communication survey
Because you are important ! RainbowHouse launches its first communication survey with the goal of optimizing the diffusion of information...
publié le 29 September 2017
---