Lola vers la mer // Lesborama* 2020
Hôtel de ville de Bruxelles - 1000 Bruxelles
20:00
Saturday 07 March 2020
Closing screening of the Lesborama* 2020 festival.
Directed by Laurent Micheli
Release date: December 11, 2019
Duration: 87 minutes
Language: French with Dutch subtitles
> Synopsis: When Lola, an 18-year-old transgender girl, learns that she will finally be able to have surgery, her mother, who was supposed to support her financially, dies. In order to respect her last wishes, Lola and her father, who hasn't seen each other for two years are forced to go to the Belgian coast. Along the way, they realize that the outcome of the trip may not be what they expected …
The screening will be presented by Daphne Coquelle, from the Transkids association.
Transkids asbl is the first French-speaking Belgian association specifically dedicated to trans children and youngsters under 20 years old, and their parents.
www.transkids.be/
Free of charge, by reservation.
Out of respect for the festival audience, please only take a seat if you are sure to come.
>> https://www.eventbrite.com/e/lola-vers-la-mer-lesborama-closing-screening-tickets-93112328481
In connection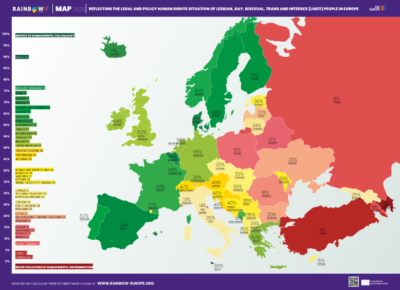 ILGA Report: How to interpret the data?
The ILGA report was released almost two weeks ago. It has been quoted many times during the official speeches at...
publié le 29 September 2017
---