Calendar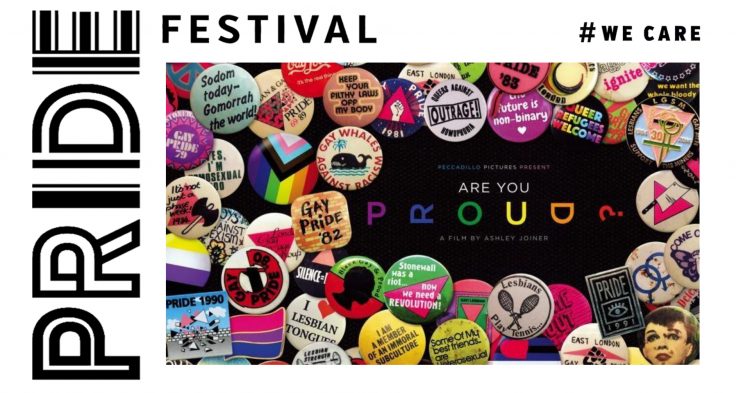 Are you proud? ☆ PrideFestival
Marsha P. Johnson (3 rue de la chaufferette)
16:00 > 18:00
Sunday 13 September 2020
Are you proud? ☆ PrideFestival
Prix / Prijs / Price : 5 euros (1 boisson comprise, 1 gratis drank, 1 free drink)
Langue / Taal / Language : VO EN st/ot EN
Inscription / Inschrijving : festival@rainbowhouse (max. 10 pers)
Accessibilité / Toegankelijkheid / Accessibility * : escaliers à l'entrée et/ou aux toilettes / trappen aan de inkom en/of toiletten / stairs at the entrance and/or toilets
===========================================
How can you be criminalised for being born the way you are?" asks George Montague, a 96 year old WWII veteran, beginning this documentary. His words echo through the film.
"ARE YOU PROUD?" meets key campaigners and investigates the organisations and events that have contributed to substantial progress within the western LGBTQ+ liberation movement, focussing on the history of Pride in the UK. It celebrates that progress, whilst exploring the controversial questions over the continuing relevance of the Pride march, and highlights the international battles still to be fought.
Combining archive footage, interviews, vox pops and reportage, the film guides us through the history of the Gay Pride movement in the UK. We meet founders of the Gay Liberation Front, founding members of Stonewall (The UK's leading LGBTQ+ lobbying organisation), the organisers of various Pride marches across the UK, groups such as Black Pride, Trans Pride Brighton and Queer Picnic. The film celebrates the progress that has been made, we are also reminded of "the fact that there are an increasing number of people out there who feel emboldened in hating queers".
===================================
* Accessibilité / Toegankelijkheid / Accessibility
FR// Accessibilité pour les personnes à mobilité réduite . Cette année, nous mettons en place un système de "buddies" pour les personnes qui souhaiteraient être accompagnées par un.e bénévole, plus d'informations sur
http://rainbowhouse.be/fr/projet/pridefestival/
.
NL // Dit heeft te maken met de bereikbaarheid voor personen met een beperkte mobiliteit . Dit jaar, zetten we een systeem van "buddies" op poten voor wie graag begeleiding krijgt van een vrijwilliger. Meer info op
http://rainbowhouse.be/nl/projet/pride-festival/
====================================
Disclaimer COVID19:
FR // Toutes les activités du PrideFestival sont encore susceptibles de changer. Tous les changements seront communiqués sur les événements Facebook, ainsi que sur le site internet de la RainbowHouse.
NL // Alle PrideFestival activiteiten zijn nog steeds aan verandering onderhevig. Alle wijzigingen zullen worden gecommuniceerd op de Facebook-evenementen, evenals op de RainbowHouse-website.
EN // All PrideFestival activities are still subject to change. All changes will be communicated on the Facebook events, as well as on the RainbowHouse website.