In the picture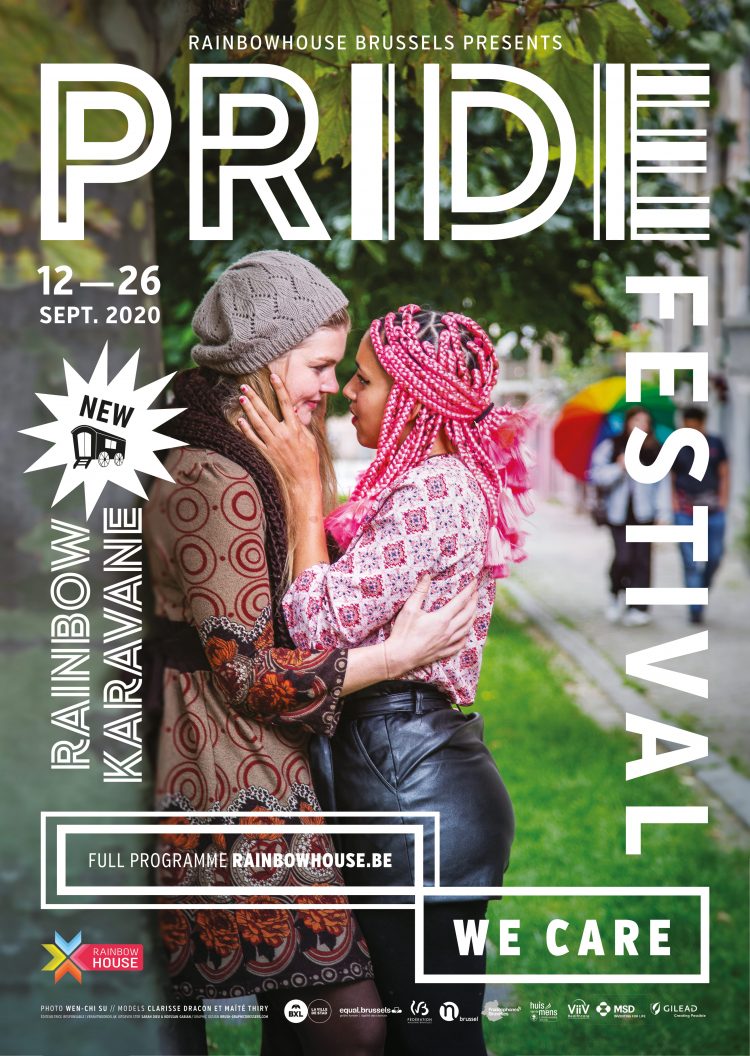 THE PRIDEFESTIVAL 2020 IS MAINTAINED
published on 9 September 2020
Celebrate the most queer events in Brussels!
From the 12th – 26th September , the RainbowHouse has the great pleasure to present the 16th edition of the PrideFestival. 
This annual event dedicated to queer culture is organised every year in May. The 2020 edition has been adapted to the health crisis measures. More than just a festival, PrideFestival is about LGBTQI+ rights, equality and political citizenship. And by a funny coincidence, the theme chosen for this edition is health.
With #WeCare, LGBTQI+ organisations draw attention to the many challenges in the field of health, such as support for people living with HIV, accessibility to health care, psychological and social aspects are also highlighted. 
The Programme: with 26 events, 4 documentary films, 2 plays and a plethora of shows, conferences, performances, the PrideFestival retains its queer, festive and subversive atmosphere. 
The festival will open with Backstages, an exhibition by artist Deborah Gigliotti, which reveals the backstage of Brussels' burlesque, transformist and drag cabarets. The programme continues with two screenings of the previously unseen documentary "Are you proud", which recounts the stories of activists and organisations that contributed to the launch of the Pride UK.
Those eager for socio-urban reflection will be delighted to discover a series of conferences organised by Marian Lens (L-tour) which explores the theme of lesbian/lesBians spaces and "Les Tasses : Toilettes Publiques, affaires privées" an exhibition by Marc Martin.
Teaser - PrideFestival2020
The festival also includes two evenings dedicated to theatre. The dead ladies show revives women erased from history. With the play Girl, Isabelle Bats questions her journey as a girl and as a woman in a frontal autobiographical tale.
The programme is also marked by informative workshops, notably on being intersex or a tutorial on the use of testosterone. With the performance "POZ!", the Vitamina collective and the artists share their stories as people living with HIV.
Partying on the dance floor is not allowed, but events such as Les dessous lesbiens de la chanson & DJ set, Queer up the stage & KaraoQueer and the closing party at LaVallée replace our wild parties to get you dancing on in your seats.
Shared online moments: 
In collaboration with EuroMagh, the team will broadcast a dozen events on the web to make them accessible to as many people as possible. Live broadcasts via Facebook and replays are planned throughout the festival. 
Discover the entire programme without further delay via rainbowhouse.be.
*Site : http://rainbowhouse.be/nl/dagboek/
*Facebook : https://www.facebook.com/PridefestivalBrussels/
*Follow us on Instagram : https://www.instagram.com/rainbowhouse_brussels/