Calendar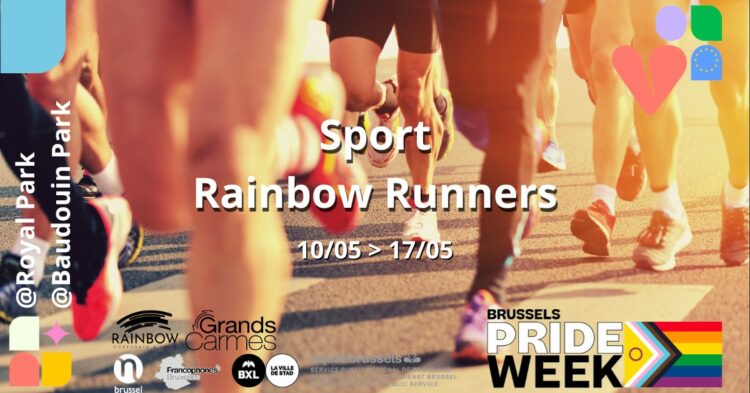 Rainbow Runners – Brussels Pride Week
Koninklijk Park
Wednesday 10 May 2023 >
Wednesday 17 May 2023
Rainbow Runners is a group of runners who advocate for LGBTQIA+ rights, open to members of the community, their families and their allies, without regard to age or physical fitness.
The group was formed in January 2022 with the goal of bringing LGBTQIA+ visibility to the Brussels 20km by running as a group and representing the community in all its diversity and activism. In 2023, we are reuniting to train together again with the same purpose.
While we compete in public running events, or "competitions", Rainbow Runners is not a competitive group. Everyone is welcome to run with us and set their own personal objectives.
In the months leading up to an event, we train once a week with a professional coach. He helps each member develop their own personal training program which responds to the needs of each individual. We also train together a second time during the week. We want to offer support to our members by inviting them to share the highlights of their runs in our WhatsApp and / or Strava group.
Rainbow Runners is for you if you want to meet people who share the same values and to train with a diverse and inclusive group of amateur runners towards a common goal: to fight for the rights and visibility of LGBTQIA+ people.
• 10/05/2023 – 19:00 Royal Park, Brussels, side Royal Palace
• 14/05/2023 – 10:30 Baudouin Park, Jette, Jette sports hall
• 17/05/2023 – 19:00 Royal Park, Brussels, side Royal Palace
• Free
• Training (75 tot 85db)
• All public
• Info : 
http://www.bgs.org/en/rainbowrunners/