Calendar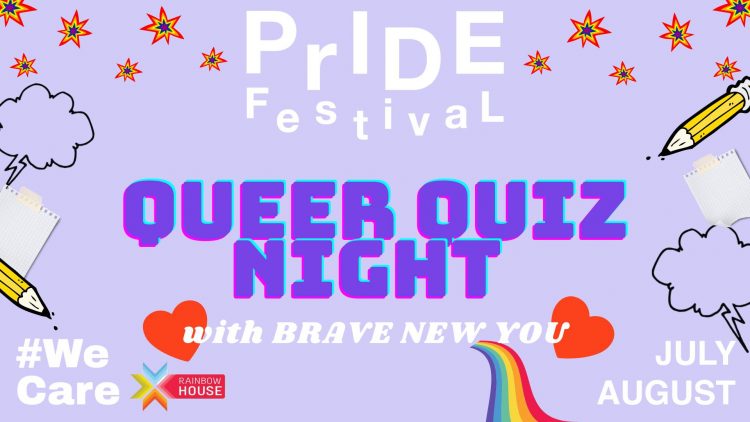 Queer Quiz with Brave New You // PrideFestival 2021
RainbowHouse Brussels
19:00 > 22:00
Thursday 15 July 2021
The Brave New You Team invites you to a queer quiz night !
Solo players, quiz amateurs, friendly game opponents – join us for a 100% queer quiz : ranging from queer history, to films & music, to LGBTQI+ political icons, queer fashion & facts.
Shhh: there are prices to win !
You can sign up as a team or alone – do not worry, we will mix the participants & find you a great team !
UTSOPI (the union of organized sex workers for independence) is at the RainbowHouse Bar & welcomes you at the bar.
𝚃𝚑𝚎 𝙿𝚛𝚒𝚍𝚎𝙵𝚎𝚜𝚝𝚒𝚟𝚊𝚕 𝟸𝟶𝟸𝟷 𝚒𝚜 𝚋𝚊𝚌𝚔 𝚏𝚘𝚛 𝚒𝚝𝚜 𝟷𝟽𝚝𝚑 𝚎𝚍𝚒𝚝𝚒𝚘𝚗: 𝚝𝚠𝚘 𝚖𝚘𝚗𝚝𝚑𝚜 𝚘𝚏 𝚜𝚘𝚌𝚒𝚘-𝚌𝚞𝚕𝚝𝚞𝚛𝚊𝚕 𝚊𝚌𝚝𝚒𝚟𝚒𝚝𝚒𝚎𝚜, 𝚊𝚌𝚝𝚒𝚟𝚒𝚜𝚝 𝚎𝚟𝚎𝚗𝚝𝚜 𝚊𝚗𝚍 𝚏𝚎𝚜𝚝𝚒𝚟𝚒𝚝𝚒𝚎𝚜 𝚊𝚠𝚊𝚒𝚝 𝚢𝚘𝚞: 𝚙𝚎𝚛𝚏𝚘𝚛𝚖𝚊𝚗𝚌𝚎𝚜, 𝚠𝚘𝚛𝚔𝚜𝚑𝚘𝚙𝚜, 𝚜𝚌𝚛𝚎𝚎𝚗𝚒𝚗𝚐𝚜, 𝚍𝚎𝚋𝚊𝚝𝚎𝚜, 𝚖𝚎𝚎𝚝𝚒𝚗𝚐𝚜, 𝚙𝚊𝚛𝚝𝚒𝚎𝚜, 𝚌𝚘𝚗𝚏𝚎𝚛𝚎𝚗𝚌𝚎𝚜 𝚊𝚗𝚍 𝚖𝚞𝚌𝚑 𝚖𝚘𝚛𝚎! 𝙾𝚛𝚐𝚊𝚗𝚒𝚜𝚎𝚍 𝚋𝚢 𝚁𝚊𝚒𝚗𝚋𝚘𝚠𝙷𝚘𝚞𝚜𝚎 𝙱𝚛𝚞𝚜𝚜𝚎𝚕𝚜 𝚊𝚗𝚍 𝚒𝚝𝚜 𝚊𝚜𝚜𝚘𝚌𝚒𝚊𝚝𝚒𝚘𝚗𝚜, 𝚝𝚑𝚎 𝙿𝚛𝚒𝚍𝚎𝙵𝚎𝚜𝚝𝚒𝚟𝚊𝚕 𝚑𝚘𝚗𝚘𝚞𝚛𝚜 𝙻𝙶𝙱𝚃𝚀𝙸+ (𝙻𝚎𝚜𝚋𝚒𝚊𝚗, 𝙶𝚊𝚢, 𝙱𝚒𝚜𝚎𝚡𝚞𝚊𝚕, 𝚃𝚛𝚊𝚗𝚜*, 𝚀𝚞𝚎𝚎𝚛, 𝙸𝚗𝚝𝚎𝚛𝚜𝚎𝚡, 𝚎𝚝𝚌.) 𝚊𝚛𝚝𝚒𝚜𝚝𝚜 𝚊𝚗𝚍 𝚊𝚌𝚝𝚒𝚟𝚒𝚜𝚝𝚜. 𝚃𝚑𝚎 𝚌𝚛𝚎𝚊𝚝𝚒𝚟𝚒𝚝𝚢 𝚊𝚗𝚍 𝚊𝚌𝚝𝚒𝚟𝚒𝚜𝚖 𝚘𝚏 𝚝𝚑𝚎 𝙻𝙶𝙱𝚃𝚀𝙸+ 𝚌𝚘𝚖𝚖𝚞𝚗𝚒𝚝𝚒𝚎𝚜 𝚒𝚗𝚟𝚊𝚍𝚎 𝚝𝚑𝚎 𝚌𝚒𝚝𝚢 𝚘𝚏 𝙱𝚛𝚞𝚜𝚜𝚎𝚕𝚜 𝚊𝚗𝚍 𝚖𝚊𝚔𝚎 𝚒𝚝𝚜 𝚌𝚞𝚕𝚝𝚞𝚛𝚊𝚕 𝚟𝚎𝚗𝚞𝚎𝚜 𝚟𝚒𝚋𝚛𝚊𝚝𝚎!