Calendar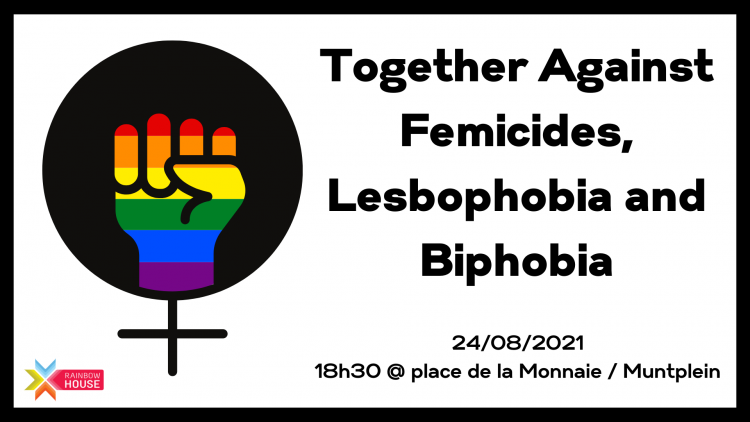 Together against Femicides, Lesbophobia and Biphobia
Place de la Monnaie
18:30 > 19:30
Tuesday 24 August 2021 >
Tuesday 24 August 2021
On Saturday 14 August 2021, two women, Nathalie Maillet, director of the Spa-Francorchamps circuit, and her partner Ann Lawrence Durviaux, a lawyer and law professor at the University of Liège, were shot dead in Gouvy by a man, Franz Dubois, Nathalie Maillet's husband (who was in the process of divorce).
This drama, often presented as a news item, is also frequently romanticized through a problematic characterization of "crime of passion", symptomatic of a society where, in a marital context, killing can find extenuating circumstances.
❌ This double murder was not a family drama. It was not a crime of passion.
It was a double feminicide.
❌ One does not kill out of jealousy, one does not kill out of love: one kills because one feels legitimate to kill.
❌ Today, we call for strong measures, for a real change to be initiated and for the media to name things for what they are.
In order to show solidarity and denounce violence, several LGBTQI+ and feminist associations and collectives are organising an action this Tuesday 24 August 2021 at 6.30pm, Place de la Monnaie.
On the agenda:
18:30: start
– speeches by feminist and LGBTQI+ associations and collectives
– reading of the names of women who were victims of feminicide in 2021 in Belgium
– minute of silence & minute of noise
– slam and reading of texts
7pm: end
You are a feminist/LGBTQI+ association and you want to be added as a co-organiser? Or you want to say a few words during the first part of the action? Contact delphine@rainbowhouse.be
You want to recite a poem, do a slam, read a relevant text? Contact delphine@rainbowhouse.be
👥 maximum 200 people on site