Calendar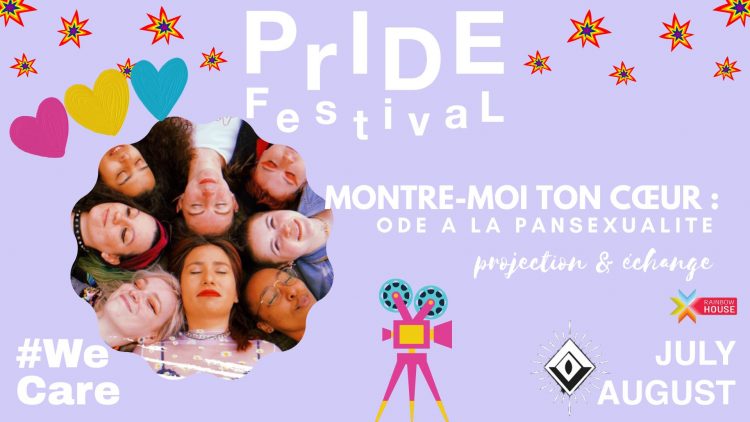 Montre Moi Ton Coeur – Docu sur la pansexualité & enregistrement podcast // PrideFestival 2021
Cabaret Mademoiselle
18:30 > 20:30
Tuesday 27 July 2021
𝐒𝐞𝐞 𝐲𝐨𝐮 𝐨𝐧 𝐓𝐮𝐞𝐬𝐝𝐚𝐲 𝟐𝟕 𝐉𝐮𝐥𝐲 𝐟𝐨𝐫 𝐭𝐡𝐞 𝐛𝐫𝐨𝐚𝐝𝐜𝐚𝐬𝐭 𝐨𝐟 𝐭𝐡𝐞 𝐟𝐢𝐫𝐬𝐭 𝐅𝐫𝐞𝐧𝐜𝐡-𝐬𝐩𝐞𝐚𝐤𝐢𝐧𝐠 𝐝𝐨𝐜𝐮𝐦𝐞𝐧𝐭𝐚𝐫𝐲 𝐨𝐧 𝐩𝐚𝐧𝐬𝐞𝐱𝐮𝐚𝐥𝐢𝐭𝐲 (event in French)!
After the screening, we will exchange on pansexuality and queerness and our discussion will be recorded (anonymity possible) as a free and participative podcast.
The opportunity to exchange together on the topic of self-acceptance as a queer (and especially pansexual) person: how do you practice self-love?
We want to hear your tips & strategies!
Synopsis: "How do you feel when I mention the word "love"? Isn't it the most wonderful feeling anyone can know? An attention, a hug, a smile, a moment that freezes in our hearts. Aren't all these little things the reason for our existence? In a world where we have learned to look at what makes us different from each other, there are people who distinguish above all what connects us: our souls. This documentary shares with you the vision of pansexual people of all ages, genders, backgrounds and more. Those people who love others above all for who they are inside."
In a Belgian premiere, the Inclusive, which also produces podcasts where actors who fight for an ethical, multicultural, more inclusive world are invited, presents its documentary in which pansexual people testify about their realities.
L'inclusive and the PrideFestival will take place at the Cabaret Mademoiselle, a mythical queer night spot in Brussels where live art, humour and culture are celebrated with love and creativity!