In the picture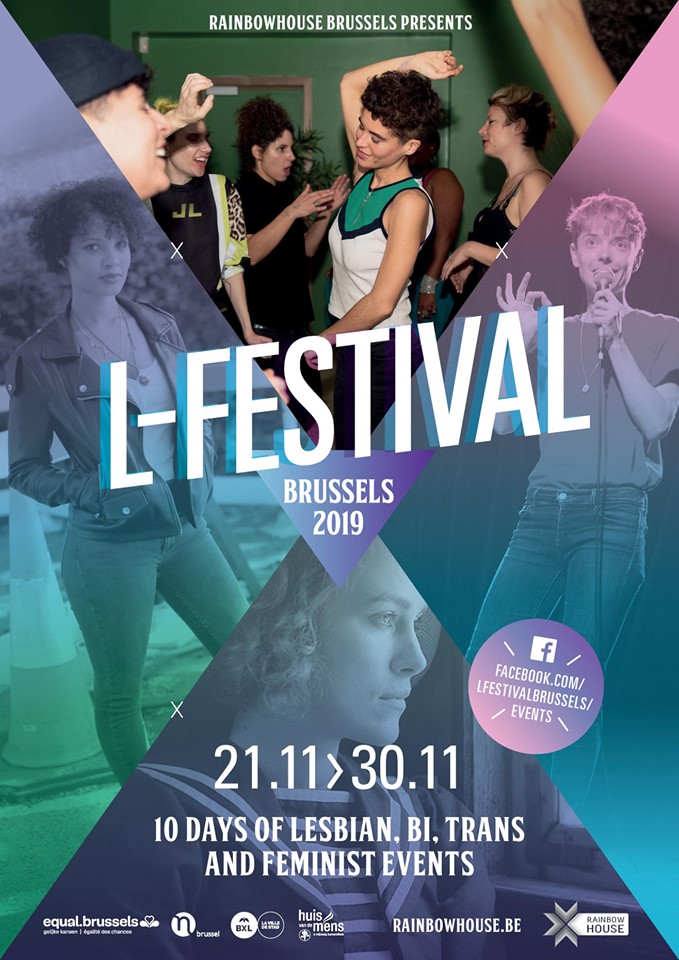 The L-Festival will electrify the city!
published on 20 November 2019
A few days before the opening of the L-Festival, the RainbowHouse Brussels will give you some of the highlights that will take place in the heart of Brussels.
On Thursday, November 21 from 7 p.m. the L-Festival starts at the RainbowHouse with the vernissage "DYKES got talent – 5 years of L-Festival Photocontest". At 9 pm film lovers are expected at Cinéma Aventure for the projection of the full-length film "Carmen y Lola", realized by Arantxa Echevarría.
Then performances and workshops will follow every day: Cabaret Fluide (s) at Cabaret Mademoiselle, the projection of the film Colette, and workshops such as: Trans pour les nul.le.s, Drag King Workshop or Radical Self-Care, the L -Tour proposes a visit to rediscover the historic center from a queer point of view, and then we mention the Pompon Sauvage concert, the Lesbian Quiz, or the Super Brunch.
For those who love queer Stand-up, we have two unpublished shows on the program! You can admire 4 actresses on the stage of the Cultural Center of the Riches Claires on Saturday 23 November. The second show will take place at the Garcia Lorca Cultural Center on November 27.
The L-Festival will organize another PowHer Day, a day on which the associations and collectives of women (and mixed), members of the Rainbowhouse, are highlighted. They will showcase the activities they organize for women who are lesbian, bi, trans and feminist.
Unfortunately all things must come to an end but a festive one! In collaboration with the MISFITTE collective, in all its beauty and with lots of bells and whistles in LaVallée, there will be a party in the evening of 30 November. Check the RainbowHouse website to discover the entire program.
The main objectives of the L-Festival
Since its inception, the L-Festival has given visibility to queer women and has been offering safe spaces in which lesbian, bi and trans art of all different disciplines can exist and where the movements of queer women can become acquainted .
List of partners of the L-Festival 2019
HuisvandeMens, equal.brussels, Pink Screens, Misfitte, Crazy Circle, the City of Brussels
The entire program:
* Website: http://rainbowhouse.be/en/projet/l-festival-2019-2/
* Facebook: https://www.facebook.com/pg/LFestivalBrussels/about/?ref=page_internal
* Follow us on Instagram: https://www.instagram.com/rainbowhouse_brussels/