In the picture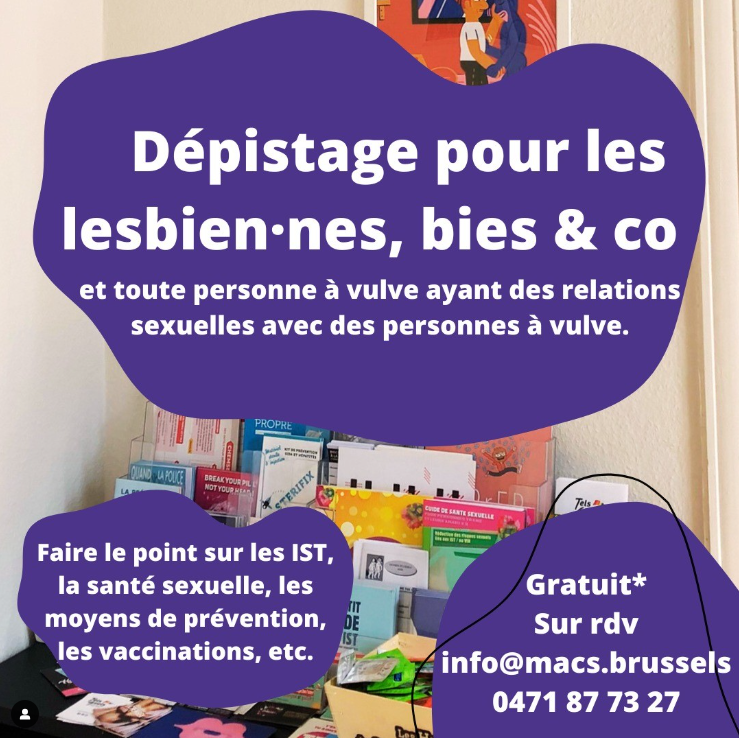 STDs-Screening at the Grands Carmes
published on 17 July 2023
The Maison Arc-en-ciel de la Santé is pleased to announce that the care offer for lesbians, bies and co begins this Monday, July 17, 2023. Several times a week, we will be running screening slots for sexually transmitted infections for lesbian women, bies and co (as well as anyone with vulva who has sex with other people with vulva).
It is imperative to make an appointment. Either via info@macs.brussels or by telephone on +32 471 87 73 27.
Rue des Grands Carmes, n°20 – 1000 Brussels. Our premises are on the 1st floor, without elevator. If you are PRM, please let us know and we can work out a solution together.
This is not an appointment with a gynecologist, but with a general practitioner trained in the specific needs of the LGBQTIA+ community. The appointments enable you to be tested for STIs and treated for them. Although we're launching it now, it's still a work in progress, and the services we'll be able to offer will probably soon expand to include a more comprehensive approach to sexual health. We'll be sure to keep you informed of any changes or new developments!