In the picture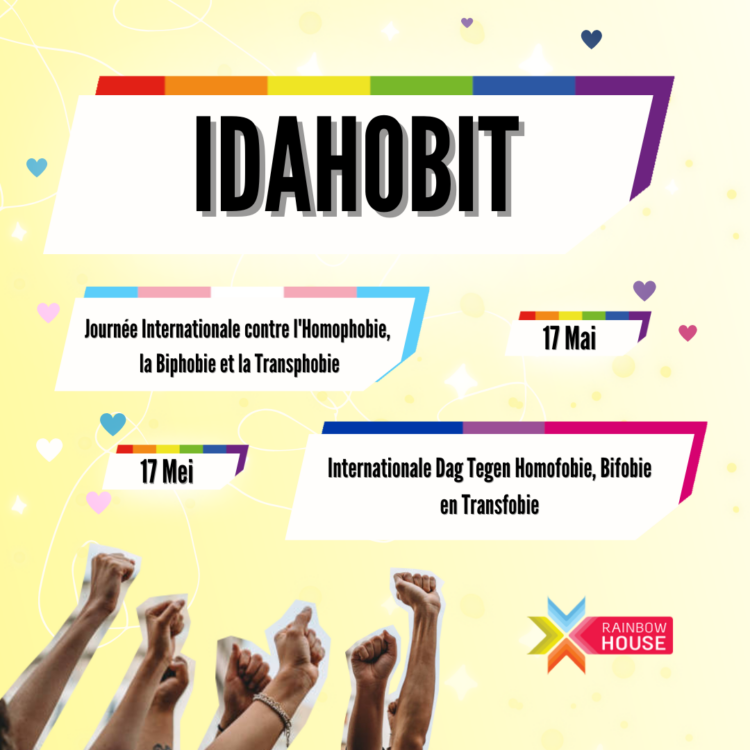 IDAHOBIT – May 17th 2023
published on 17 May 2023
May 17, a historic date
On May 17, RainbowHouse joins with Prisme and Çavaria to celebrate the International Day Against Homophobia, Transphobia and Biphobia (IDAHOBIT), whose theme this year is "Together always: united in diversity. This date is symbolic because on May 17, 1990 the WHO removed homosexuality from the list of mental illnesses.
More than thirty years later, other historic advances have been made, including the legalization of same-sex unions in many countries. Now, with regard to the recognition of the diversity of gender identities, the principle of self-determination is increasingly recognized and applied.
A global threat to our rights
However, every step forward is accompanied by tensions and setbacks. 
The war waged by governments against LGBTQIA+ people in countries such as Russia (total invisibilization) or Uganda (promulgation of the death penalty) should not give the impression that everything is happening elsewhere. Indeed, the decline in access to medical transition services or the stigmatization of drag shows seems to find an echo in Europe, at least in part of public opinion. It is a resource that can easily be exploited by populist parties that play on the lack of information and shortcuts.
It is therefore worrying to note that the education of young people on LGBTQIA+ issues can be questioned and accused of being partisan when it is a question of raising awareness of fundamental rights and the realities of society. In general, objective information must be able to circulate freely, without being considered as the expression of negligible minorities or as any kind of proselytism. 
33 years after May 17, 1990, it is no longer time for tolerance, but for total and unequivocal recognition. To use a current slogan: Our identities are not up for debate.
Efforts to be made in the immediate future…
The three federations (RainbowHouse, Prisme and Çavaria) are calling for the implementation of the current bills and for more transparency regarding 
the ban on conversion therapies: a draft bill approved by the Council of Ministers. What are the next steps?
the ban on mutilation of intersex minors. The chamber adopted a resolution for a legal framework. A draft law was being prepared. What are the next steps?
The adaptation of the Trans* law to the requirements of the Constitutional Court. The State Council is asking to find a solution for gender markers on identity documents that give an option to people who do not identify with the binary spectrum. What are the next steps?
These points are also raised by the ILGA report, the European organization of LGBTQIA+ associations. This ranking highlights that the fundamental human rights of LGBTQIAI+ people are still not 100% guaranteed in Belgium. An unacceptable situation. This paradox shows that there is still a long way to go.
This mixed assessment is also the one of the TGEU, whose Trans Rights Map 2023, shows a global progress but a still largely problematic situation for transgender people. In France, the annual report of SOS Homophobie points out, in addition to alarming figures concerning online aggressions against LGBTQIA+ people, a constant increase of violence against transgender people, mostly trans women, in public spaces and in particular in shops. This sad finding is consistent with the 2021 Unia report which showed that public space concentrated reports of violence related to sexual orientation. Unia's figures for 2022 indicate a trend towards an increase in violent acts. In addition, like SOS Homophobie, Unia is concerned about the increase in online hate speech. The 2021 report of GLAAD (Gay & Lesbian Association Against Defamation) confirms that none of the major social networks are "safe" for LGBTQIA+ people.
And in the long term.
Among the possible advances, the ILGA report calls for tougher penalties for crimes and violence perpetrated because of sexual orientation, gender identity and expression or gender characteristics. Unia, for its part, is campaigning for online hate messages to be dealt with more quickly by being tried in correctional courts rather than in assizes (Article 150 of the Constitution). In general, we need to send a signal that LGBTQIA+phobic behavior is unacceptable and a crime. In order to change this, it is essential to also strengthen prevention through awareness. 
At RainbowHouse, we believe that changing attitudes must first and foremost involve educating the general public as well as professionals (health, asylum, administration…). We ourselves, as an organization representing 70 member associations, must continue to learn and train, especially in terms of prevention of systemic violence and cross-discrimination. 
We want to emphasize that ensuring minorities' access to their basic human rights strengthens those rights for all. This long-term work will ensure that the gains made in terms of security, well-being and inclusion are sustained and that there is no backsliding on fundamental rights. 
In the long run, we also call for the inclusion in the Constitution of the principle guaranteeing non-discrimination on the basis of sexual orientation, gender identity and expression, and gender characteristics.
As Brussels Pride prepares, this day of May 17th is an opportunity to remind us that even if we have the heart to celebrate our identities, we still have to fight every day for ourselves and our adelphs whether we are lesbian, gay, bi, pan, trans, non-binary, queer, intersex, aromantic, asexual…