Calendar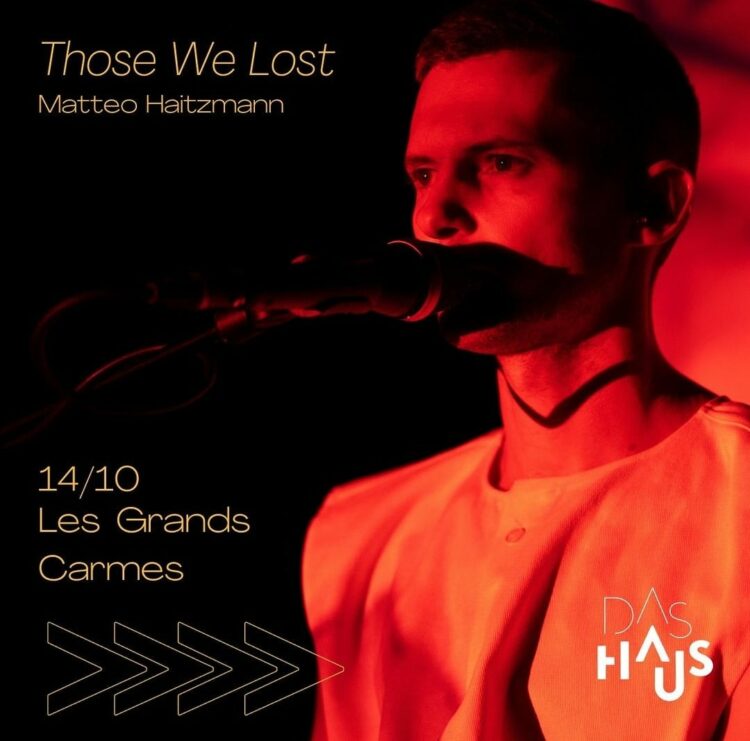 Those we lost – Matteo Haitzmann
Les Grands Carmes
19:30
Saturday 14 October 2023 >
Saturday 14 October 2023
An expression of gratitude and an outcry for change
Nothing less than a musical punch in the gut to kick off DAS HAUS' third season. We are happy to welcome you back on the 14th of October, for "Those We Lost". In this performance, Matteo Haitzmann addresses the survival strategies of the LGBTQIA+ community facing the AIDS crisis in the 1980s and 1990s.
Haitzmann revisited stories about this period in human history because of what he sees happening in the world today; a global pandemic which stigmatizes certain groups and ethnicities. It seems to be a sad truth that we would rather be divided than united. Inspired by Gideon Mendel's photography book "The Ward", he now writes "Those We Lost", a series of violin-centric art pop solo tracks that pay tribute to the dead, while seeking to create a contemporary voice for the struggle for dignity in times of crisis.
Born in 1990 in Salzburg, Haitzmann studied jazz and baroque violin at the Anton Bruckner Private University in Linz, performance art at the Academy of Fine Arts Vienna, and completed the Master's program SODA at the Berlin University of the Arts. He is a founding member of the contemporary folk music ensemble ALMA, the Vienna-based jazz collective Little Rosies Kindergarten, and the improvisation quartet s q u a m a t a. Haitzmann has performed at venues such as the Wiener Musikverein, Elbphilharmonie Hamburg, Konzerthaus Wien, Centre Georges Pompidou, Centre National de la Danse in Paris, Kaaitheater Brussels, Gessnerallee Zurich, Austrian Culture Forum Rome, at the Ludwigsburg Palace Festival, and Festspiele Erl.
"Those We Lost" is both an obeisance and a declaration of war, it is an expression of gratitude and an outcry for change. We can't wait to take you on an intense journey on October 14th!
This concert is organized with the warm support of the Flemish Community Commission, the Austrian Cultural Forum Brussels, Les Grands Carmes and RainbowHouse Brussel.
—
"Political pop with a string quartet – the Austrian violinist and performer Matteo Haitzmann impresses with his art pop solo debut." Falter 18/22
Performance artist Matteo Haitzmann commemorates the victims of the AIDS crisis. The violinist and co-founder of the band Alma combines enchanting music with poignant information in the piece "Those We Lost". Kurier 6.05.2022
—
Schedule:
19:30: doors, drinks & food
20:30: start concert
21:45: end concert & drinks
Food:
Drinks are provided before and after the concert and some yummy vegetarian food will be on offer from 19:30-20:15. You can purchase everything on the spot.
Tickets:
DAS HAUS wants to be a place accessible and affordable to all. Therefore we launched a PAY-WHAT-YOU-CAN ticket system so we can include as many people as possible.
How does it work? For each performance, there is a series of prices from which you can choose. The middle price is the suggested price. Would a lower price make it more likely that you come? Then feel free to choose that price. You can afford to pay a higher ticket price? Please do. That way, you can make sure that others can join too and that we can keep on offering the DAS HAUS musical experience to everyone
https://www.eventbrite.be/e/das-haus-presents-matteo-haitzmann-those-we-lost-tickets-722908648227