Calendar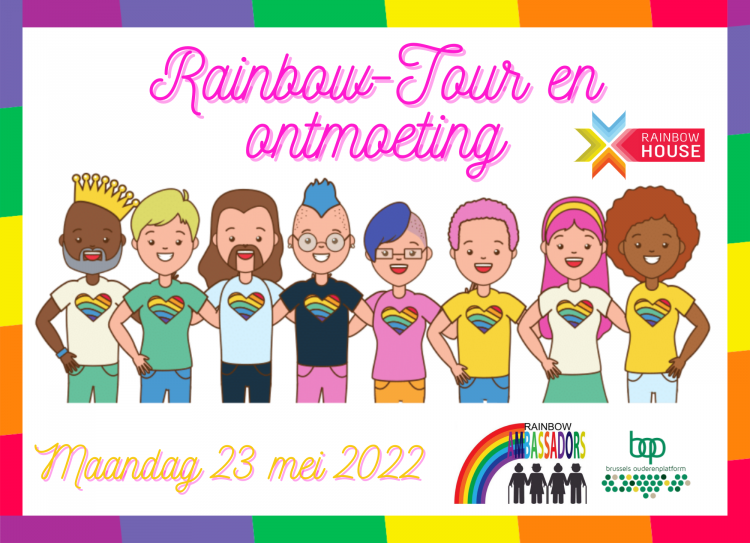 Rainbow-Tour and meeting – with the RainbowAmbassadors
RAINBOWAMBASSADORS – Brussels
Zaal Marsha P. Johnson
13:30 > 17:00
Monday 23 May 2022
RainbowHouse Brussels is pleased to invite you on the 23rd for a walk in Brussels with the RainbowAmbassadors and Brussels Elderly Platform:
Attention to gender and orientation equality has been growing strongly in recent years. Also in Brussels.
However, this positive evolution in perception is a long process and has a history of obstacles. During the Belgian Pride week the BOp, together with the RainbowAmbassadors, is organising a walk in the Brussels city center. Participants will be guided through the origins and history of the Brussels LGBTQI+ movement(s). We will discover buildings and locations where important developments have taken place.
The walk, which lasts a maximum of one and a half hours, ends at the RainbowHouse on the Kolenmarkt (Coal Market).
There we enjoy a drink and some pleasant conversation. Five members of the house choir BOcantus set the mood with some sung songs.
Read more about the RainbowAmbassadors on pages 26-27 of our next magazine.
Departure of the walk at the BOp reception desk at 1:30 p.m. to 3:30 p.m. End of the afternoon scheduled around 5 pm.
On registration: www.bop.brussels, 02 210 04 60 or at the BOp
Participation 4 euro, with BOp card 3 euro, with Paspartoe opportunity 2 euro.