In the picture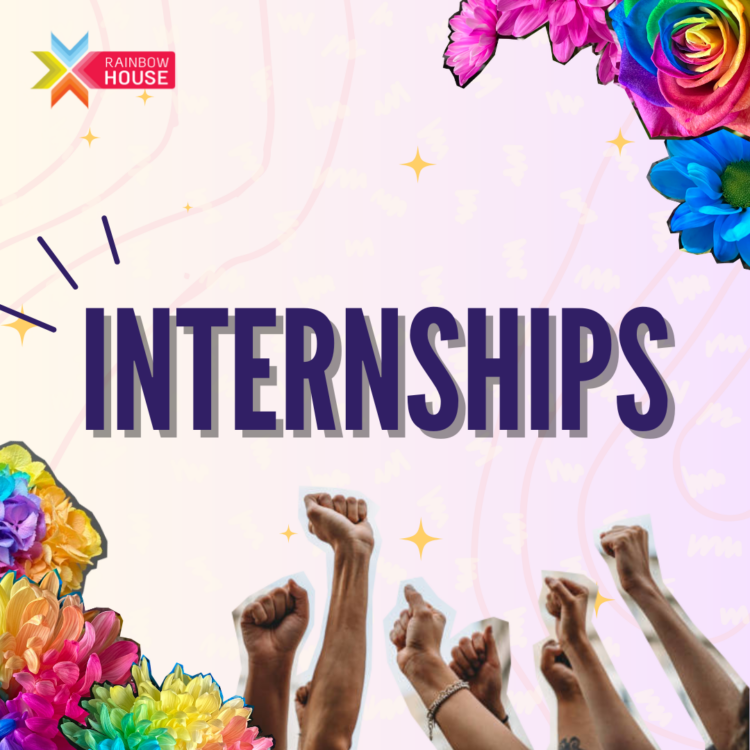 INTERNSHIPS!
published on 19 July 2023
Summer's not over yet, and we're already thinking about strengthening our team of trainees, who will find plenty of tasks and challenges at RainbowHouse. There's plenty to keep you going on your learning journey! 
There are 9 internships to choose from, covering a wide range of fields: communication, accounting, social work or cultural activities, these diverse missions reflect the diversity needed in LGBTQIA+ associative life! 
An internship is the perfect opportunity to experience the realities of the field. At RainbowHouse, this means meeting the demands and needs of the LGBTQIA+ community and putting your skills to good use. 
If you think you're the perfect person for the job, send us your application now! 
Internships can be part-time (minimum 20h/week) or full-time. Mainly weekdays, but sometimes weekends too (reporting and animation projects). 
We've got lots of great projects waiting for you! We look forward to hearing from you.
For the first half of 2023-2024 we are looking for: 
2 Communication Interns (part or full time) – for the Grands Carmes, RainbowHouse Bar and Pride projects. 
Can you write compelling content, pitch, target audiences? You'll be developing storytelling and highlighting the federation's projects. 
Do you have graphic and visual skills?  
Are you a pro at social media? 
Can you meet deadlines and multitask? Fluent in several languages? 
Join our communications team and help us raise the association's profile (on social networks) and ensure the success of our projects.
1 cultural events intern – Bar Project (part or full time) 
You'll help coordinate and plan events, exhibitions and activities in the RainbowHouse and Grands Carmes Bars. 
You'll help run discussion groups and develop exchanges with local organizations and cultural players.  
You will raise awareness among new audiences and develop the RainbowHouse's welcoming and socialization missions. 
1 accounting trainee (part-time) – cross-functional 
Would you like to develop your accounting skills by joining our finance team? You'll be involved in the accounting follow-up of projects and non-profit organizations (follow-up, budget, balance sheets, etc.). Above all, you'll support the accounting department in encoding and processing expenses, accounting documents and VAT. 
Tasks requiring precision, rigor and patience. Welcome to the team!
1 marketing internship (part-time) – cross-functional 
You will participate in the development of rainbow merchandising to support current projects. 
You will contribute to the development of bar activities. 
You will develop the value of the federation's membership benefits.  
Short or long assignments await you, and will enable you to develop your creativity and know-how. 
1 trainee Social and/or psychologist assistant – "Report it" project (part or full time, weekdays and weekends). 
The main part of the mission is to support the team in conducting interviews related to lgbtqi-phobia. Empathy and confidentiality required. 
Part of the project will also involve raising the profile and development of the project by setting up awareness-raising stands at various locations and events. 
So that violence and aggression are no longer inevitable.
2 "event" interns (half of full time) – Pride and transversal project 
You'll be involved in the cultural, activist and formal events associated with Pride Day and Pride Week. 
Preparing, selecting and promoting events. Organize logistics and welcome different audiences. 
Development and search for partnerships.  
Project support (technical and logistical) for various associations within the RainbowHouse and Grands Carmes. 
1 HR intern (part or full time) – "Rainbow for a Job" project 
This project aims to boost the employability of LGBTQIA+ people, notably through coaching and mentoring. Specific job days are also planned and to be organized on a regular basis. 
The aim is to support jobseekers, recruit mentors and develop contacts with employers and federations. 
Do you feel like creating links? Are you a good listener? Join the project!
Forecast for the second half of 2023/2024: 
Communication 

Accounting 

Cultural animation 

Event 

Social assistant – psychology 
There's no shortage of needs and opportunities for learning in a dynamic, inclusive environment. 
Send us your application and CV, mentioning the desired internship in the subject line of your e-mail. 
Just one address: stage@rainbowhouse.be  
We look forward to hearing from you! 
The Team