Agenda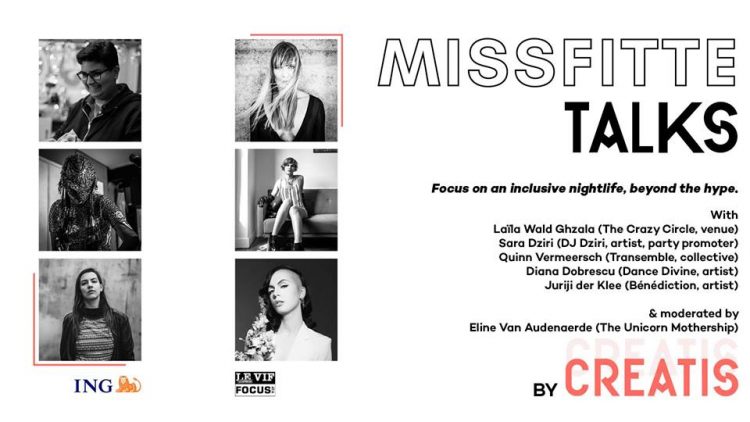 Missfitte Talks by Creatis // Focus on an inclusive nightlife
ING Art Center
18:00
dinsdag 26 november 2019
Creatis, résidence d'entrepreneurs culturels supported by ING Belgium invite you to the first MISSFITTE TALKS 🌙
𝙏𝙤𝙬𝙖𝙧𝙙𝙨 𝙖𝙣 𝙞𝙣𝙘𝙡𝙪𝙨𝙞𝙫𝙚 𝙣𝙞𝙜𝙝𝙩𝙡𝙞𝙛𝙚, 𝙗𝙚𝙮𝙤𝙣𝙙 𝙩𝙝𝙚 𝙝𝙮𝙥𝙚.
Through a non-conforming and self-critical prism we will navigate narratives of inclusion around the interactions between sexuality, gender, race, background, accessibility and artistic disciplines in today's Brussels nightlife, and what role we shall play in its future.
We want to trigger a debate in a multi-shared space that offers itself as a starting point for a discussion that will need to continue beyond the trends.
This meeting is moderated by
💫 Eline Van Audenaerde, entrepreneur and founder of The Unicorn Mothership. She empowers DJs to prioritise their well-being and chase a sustainable in electronic music through holistic empowerment coaching. As a well-being evangelist, she helps raise awareness for mental health in electronic music through speaking engagements and with her radio show Mind The Music. She also advocates for equality, diversity and a positive, healthy work environment in the music industry through her proactive involvement in networks and organisations like shesaid.so, Women In Music and the Association for Electronic Music (AFEM).
With
💫 Sara Dziri, aka DJ Dziri, is a Brussels-based internationally touring DJ, producer and promoter, resident at Kiosk Radio and founder and resident of Souk Sessions, an electronic club night inviting artists who combine electronic music with the musical tradition from the MENA region. She also recently launched a new concept called Not Your Techno, which broadens the horizon of regular club nights, bringing unusual electronic music and line ups, with a queer and feminist take on things.
💫 Diana Dobrescu, began her musical, scenic project Dance Divine stage in 2017. In 2018, she released her first album 'Cake Space Great Again' and performed it around Europe. In 2019, she performs and evolves using a prototype of sound armor that she wears on stage, metamorphosed into an amazon cyborg !
💫 Laïla Wald Ghzala from The Crazy Circle. With her companion Axelle, the lesbian couple took over the tiny cozy bar located in Ixelles in February 2019. They wanted to transform it into a lesbian bar open to the LGBTQI+ community and their allies: a safe space embracing diversity, a place of expression for queer artists. After a downsizing one year ago Laïla took the opportunity to embark in a project that makes more sense to her: opening the bar she would like to go to, a place where you feel like you can be yourself.
💫 Quinn Vermeersch was born as a boy in Knokke-Heist in 1993 but nowadays they live in a contemporary Brussels as a non-binary femme. They have the honor to be part of the Transemble Collective, that organized in the spring of 2019 the Brussels' first Transpride. Having a master in Applied Economics, Quinn is convinced that space, work, living and nightlife are strongly connected when discriminatory issues come. During this talk they focus on this interconnectivity that plays when it comes to gender, race, background.. and the impact it has on the possibility for LGBTQI* people to organize and reclaim space during day and night.
💫 Juriji der Klee, founder of BENEDICTION – Rituels Exceptionnels, a mysterious creature with an angelic face, is a countertenor, composer, songwriter and melodist. Immersed in pop culture, he creates electro-pop music away from the mainstream, where lyrical singing is made sacred again, transcending sounds, genders and eras.
This event is an extension activity of the L-Festival / Lesborama.
The ING Art Center is wheelchair accessible.
☄ ING & Creatis offer to all the participants of the talks FREE entrance and guided visit for its new annual exhibition "Love. Hate. Debate. Start a conversation with the ING Collection" ☄
Program
18:00-19:00 Talks
19:00-19:30 Q&A
19:30-21:00 Drink & visit of the ING Art Center exhibition
FREE BUT ON REGISTRATION ON EVENTBRITE
A partnership between MISSFITTE (resident of Creatis), Creatis & LeVif-FocusVif
Support by ING Belgique, KissKissBankBank & Duvel.