In beeld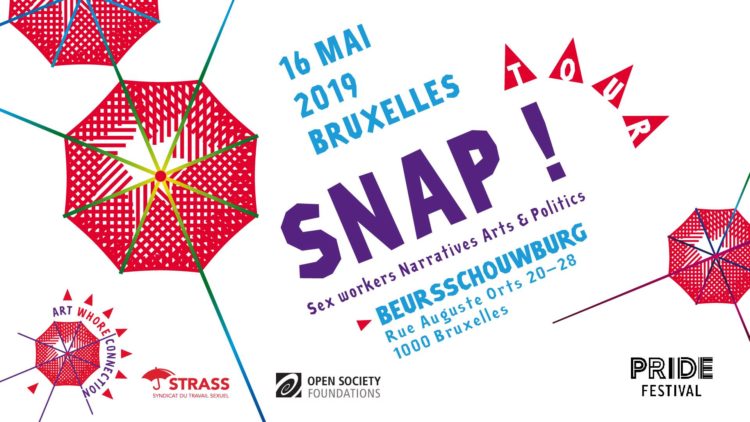 SNAP tour!
gepubliceerd 7 mei 2019
Initiated in November 2018, the Festival SNAP is
the first festival exclusively dedicated to the speeches and representations of the sex workers themselves.
Building on the success of this 1st edition 2018, the SNAP! touring Lille, Lyon, Marseille, Bordeaux, Paris, Brussels, proposing in the spring of 2019 a condensed version of its program of films, round-tables, and performances, respecting the ethical, aesthetic and political principle:
NOTHING ABOUT US WITHOUT US.
NOTHING ABOUT US WITHOUT US.
On the program of this tour, a summary of the strong elements of SNAP 2018 programming: the projection of the documentary "Professional Amateurs" which tells the world of the porn webcam followed by a discussion on the sex trade online with the director Carmina – Le cul entre deux chaises.
Then, a conference / projection on the legislative context in Europe and Belgium, as well as on cross-discrimination will open a reflection on the physical and structural violence made to sex workers, with community organizations of concerned.
Finally, to end the day, an evening concert and performances of artists sex workers ART WHORE CONNECTION will take place from 20:30.
http://snapfest.fr/index.php/programme-3/
On Facebook: https://www.facebook.com/events/2032645033471254/
Free access to screenings and conferences.
Bookings and evening performance tickets:
NL: https://apps.ticketmatic.com/widgets/beursschouwburg/addtickets?event=909995561662&l=nl
EN: https://apps.ticketmatic.com/widgets/beursschouwburg/addtickets?event=909995561662&l=en
EN: https://apps.ticketmatic.com/widgets/beursschouwburg/addtickets?event=909995561662&l=en