Agenda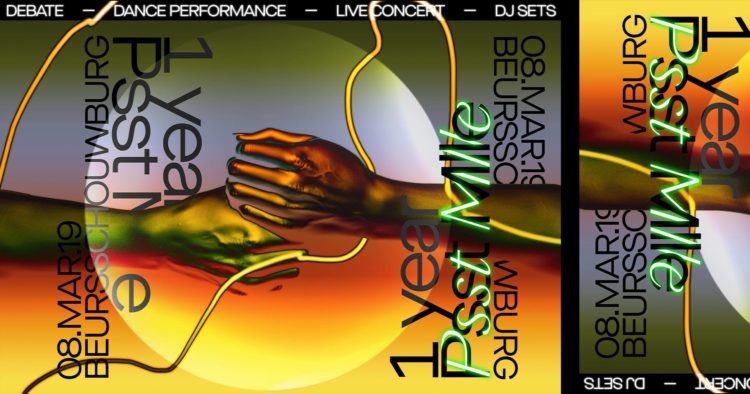 ▶1 year Psst Mademoiselle – International Women's Rights Day
Beursschouwburg August Ortsstraat 20 -28, 1000 Région de Bruxelles-Capitale
21:30 > 05:00
vendredi 08 mars 2019 >
vendredi 08 mars 2019
To celebrate International Women's Rights Day and their first anniversary, Psst Mlle invites 8 other Belgian female collectives to throw a multidisciplinary event.
Poxcat, Zij!, Les Sous-Entendues, Laisse Les Filles Tranquilles, 2F4F, Girls go BOOM, Collectif 8 Mars pour Tou.te.s's Vrouwenstaking – Toutes en grève – Women's strike and RainbowHouse Brussels's Lesborama festival join hands for an unforgettable night with live concerts, dance performances, projections, B2B DJ sets and a special scenography.
The night's theme is MIRROR, be creative.
LINE-UP
Live performances
• Martha Da'ro (live concert)
• Dance performance by Nick Coutsier
• KHADYAK
DJ sets
• Kim Peers (Zij!) x DJ HYPPOCAMPO (Poxcat)
• DJ Amigo III (Poxcat) x Wutangu (Bledarte / Leaving Dakota)
• ++ Nurse ++ (Poxcat) x Mika Oki (Psst Mademoiselle Live Sessions)
SCENOGRAPHY
Special sceno by 2F4F
Projection by Girls go BOOM
Art works by Roxanne Maillet
Merch by Laisse Les Filles Tranquilles, Girls Go Boom, Les Sous-Entendues available
And more surprises!
DEBATE
How can the cultural sector better mirror society's diversity?
From 2pm to 4pm on The Word Radio moderated by Emi Vergs with
Eline Van Audenaerde from shesaid.so Belgium
Yvoire de Rosen from Mwanamke Collectif Afroféministe Belge
Oumayma Hammadi from RainbowHouse Brussels
FREE
find out more
EN https://beursschouwburg.be/en/events/1-year-psst-mademoiselle/
NL https://beursschouwburg.be/nl/events/1-year-psst-mademoiselle/
FR https://beursschouwburg.be/fr/events/1-year-psst-mademoiselle/
L'event facebook : https://www.facebook.com/events/2245404589055706/