Projecten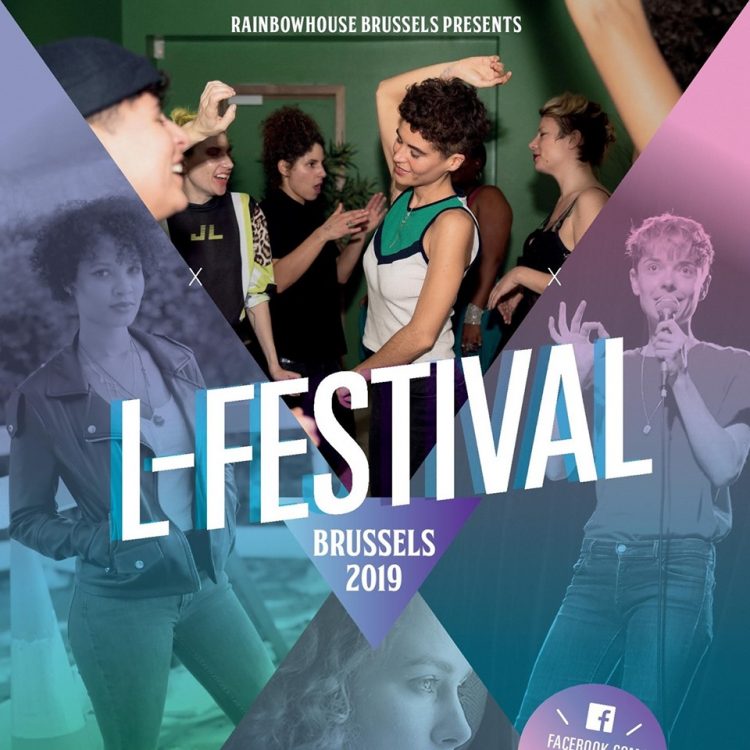 L-Festival 2019
Een rijk en gevarieerd programma om alle gemeenschappen van Lesbian, Bisexual en Trans* te bereiken
Lesbiennes uit alle landen, bisexuelen in alle kleuren, trans' met brillen, queer cinefielen, pansexuele globe-trotters, feestelijke feministen, verbonden door alle genders: deze zevende editie van het  L-Festival is voor jullie!
Het hele programma van het L-Festival kan je vinden op: https://www.facebook.com/LFestivalBrussels/events/
★★★★ AGENDA ★★★★
★ Donderdag 21 nov: • 19:00-23:59 L-Festival Opening // Vernissage "Dykes got talent"

Lesbiennes van over heel de wereld, bisexuelen in alle kleuren, queers met brillen, pansexuele globetrotters, trans' cinefielen, feestelijke feministen, bondgenoten van alle genders, dit L-Festival 2019 is er voor jullie!
Om met veel toeters en bellen het L-Festival te openen, nodigen we jullie uit voor een tentoonstelling die 5 jaar fotowedstrijd van het L-Festival overloopt.
Sedert 2014, heeft het L-Festival elk jaar lesbische, bi en trans* fotografen en kunstenaars uitgenodigd om zich door een thema te laten inspireren, hun geliefkoosde modellen op te trommelen en ons de allerbeste foto's te sturen.
En sinds 2014, is de jury verbaasd, verbijsterd, en zelfs sprakeloos van zoveel talent.
Even herinneren…
2014: "Dykes & Cats"
2015: "Dykes & Bikes"
2016: "Dykes & Hair"
2017: "Dykes & Food"
2018: "Dykes in the Streets"
En natuurlijk komt de editie van 2019 met een nieuw thema: "Dykes & Crews"!
Ondertussen kan je dat overzicht van vijf jaar mooie foto's komen ontdekken, soms grappig, bloedheet, ontroerend, ondeugend, maar altijd creatief.
Dat is ook het moment om je exemplaar van het programma van het L-Festival mee te pikken, tenminste als je het nog niet hebt!
Cava en fingerfood zijn er om 19:30
Speech om 20:00
Zwaar bedankt aan onze partner huisvandeMens die voor al het fingerfood zorgt.
Facebook-link: hier
★ Donderdag 21 nov: • 23:15 Carmen y Lola // L-Festival Opening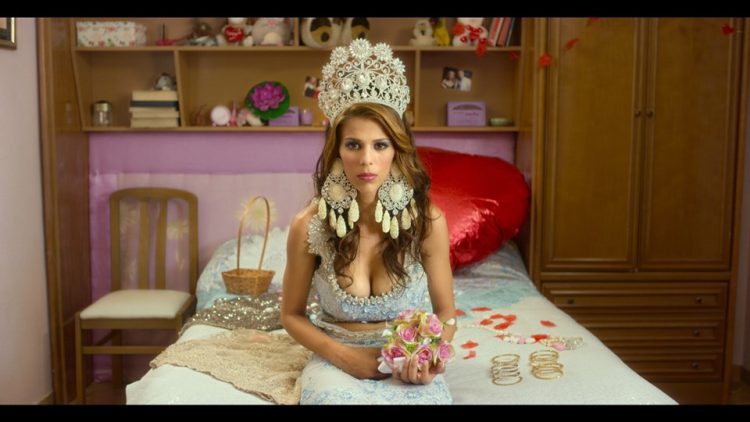 Voor de opening van het L-Festival werken we samen met huisvandeMens en Pink Screens om jullie "Carmen y Lola" voor te stellen, een film van de Spaanse filmmaakster Arantxa Echevarria.
Deze liefdesgeschiedenis tussen twee vrouwen uit de gypsy gemeenschap is gebaseerd op een waar verhaal. Carmen en Lola proberen zich te ontdoen van de oeroude tradities en de voorbestemde toekomst en dromen van een vrij leven, samen… Zaira Romero en Rosy rodriguez zijn overigens geen professionele actrices en verbazen door hun natuurlijk en overtuigend spel.
Met NL & FR ondertiteling
Facebook-link: hier
★ Vrijdag 22 nov: • 15:00-19:00 Drag King Workshop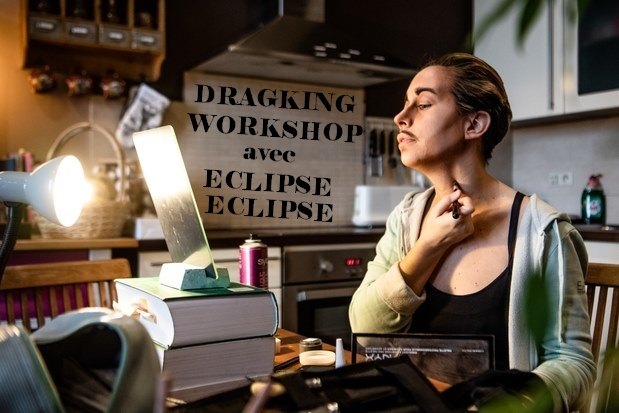 Op het programma :
– 15u -19h Workshop Drag King >>> 5 euro (drankje inbegrepen) >>> Inschrijven is nodig voor de workshop, maximum 15 personen
– 20u30 Open Stage Drag Queer: wie de workshop heeft gevolgd kan een show van ong. 5 minuten doen @Cabaret Mademoiselle
– 21u30 – … Cabaret fluide: Dragshows & PARTY @Cabaret Mademoiselle! 🌈
💋 Die inschrijvingen worden afgerond tegen 20 November.
Facebook-link: hier
★ Vrijdag 22 nov: • 19:00-20:30 Cabaret Fluide-s &10 techniques pour sortir de l'hétérosexualité
Dix techniques faciles pour sortir de l'hétérosexualité, c'est ce que propose cette performance, menée sous la forme d'une fausse conférence, par Elitza Gueorguieva et Dominique Gilliot. (en français)
Les deux artistes proposeront plusieurs astuces pour répondre à ce véritable cri d'urgence: kidnapper un berger, entretenir des relations compliquées avec ses parents ou prendre part à un rituel arawak.
Des images fantasques, des photos d'adolescence et des créations sonores viennent appuyer ces techniques en même temps qu'elles augmentent la magie politique de ce qui se joue.
Enfin, une citation de Monique Wittig et quelques cours privés sont aussi à envisager afin que tout le monde puisse passer une année 100% queer et équilibrée.
🎩💄 La soirée continue avec un open stage DragKing. En effet à 20h30 les participant.e.s du workshop DragKing (voir event: ) pourront proposer une performance de 5 minutes, sur la coquette scène du ★ Cabaret Mademoiselle ★
Et dès 21h30, la soirée Cabaret Fluide(s) se poursuit avec les Drag Kings vedette du Cabaret Mademoiselle & autres artistes queers et fluides!
Ouverture des portes : 19h
Entrée: gratuite
Facebook-link: hier
★ Zaterdag 23 nov : 11:00-17:00 PowHer Day // Fun, food, and networking

Op 23 november zal het Regenbooghuis overspoeld worden door stands van alle vrouwen (en gemengde) organisaties van het Regenbooghuis. Die zullen er hun activiteiten komen voorstellen gericht op lesbiennes, bies, trans, en feministen!
Voor al die verenigingen is het een prachtig moment om hun publiek te ontmoeten, maar ook om de mensen van de andere organisaties beter te leren kennen.
Voor iedereen is dit het ideaal moment om vragen te stellen en voor een flinke dosis militantisme en culturele activiteiten van lesbiennes, bies, trans en feministen!
En we weten dat activisme langer duurt als het goed gevoed wordt, dus zal er een buffet voorzien zijn tussen 12u30 en 14u (made by Super Fourchette), en thee met koekjes om 16u.
Hebben hun aanwezigheid al bevestigd:
– Le Refuge (Brussels LGBTQI opvanghuis)
– RainbowAmbassadors (seniors LGBTQI)
– Fuchsia (nederlandstalige lesbische vrouwen)
– L-Tour (historische LGBTQI rondleiding in Brussel)
– Egow (lesbian an bisexual english-speaking group)
– Genres Pluriels (vereniging voor trans, intersex, niet binair en gender fluide personen)
– BGS (LGBTQI sport)
– Go To Gyneco (Tels Quels en O'Yes)
– Sing Out (LGBTQI vocale groep)
(+ more to come)
Extra:
Een historische lesbische rondleiding door L-Tour om 11u (NL/EN) en 14u (FR/EN) .
Thema: De "Premières" van en door lesbiennes
Gratis
Plaats: Regenbooghuis
Inschrijven op brussels.l.tour@gmail.com (het gekozen uur aangeven)
Facebook-link: hier
★ Zaterdag 23 nov: • 20:00-22:30 Audrey Jésus, Mahaut, Amé // Queer stand-up, LEZ Do It ! Part.1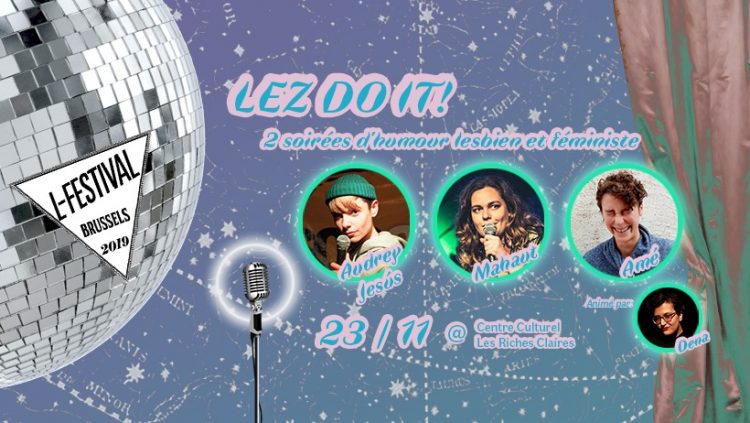 >> LEZ DO IT <<
★ Queer Stand-Up ★ (Part.1)
L-Festival présente la fine fleur du stand-up francophone: Audrey Jésus, Mahaut, Amé
Présentation: D E N A
Préparez vos joues, étirez vos zygomatiques, oubliez votre semaine, 3 performeuses s'emparent de la grande salle des Riches Claires pour un show 100% meufs, 100% queer, et 100% féministe. Pas si fréquent, vous me direz? Carrément rare oui!
Venez découvrir, venez applaudir:
☺ Amé (Valence – France)
tags: #genre #manifpourtous #loisfarfelues
On l'appelle Monsieur… et ça le/la fait rire !
Il ou elle ?
D'anecdote en anecdote, de la critique acerbe des extrémismes homophobes à un passage en revue des lois les plus absurdes et drôles, Amé nous offre aussi un cours de séduction infaillible. Chacun.e s'y reconnaîtra, enfin presque…
Avec son regard cynique, Amé nous transporte au cœur de sa vie et nous confie ses questionnements sur la société.
Il/elle nous titille sur des sujets brûlants qui nous touchent toutes et tous ! Amé rit d'elle-même, de nous, de notre monde de fou !
☺ Audrey Jésus (Paris – France)
tags: #blaguesdelesbiennes #blaguesdecul #instagram #normesdeféminité
Tu te souviens très probablement de son buzz de l'été: https://www.youtube.com/watch?v=OaPL2dlsA6E
Et parce qu'un lien vaut parfois mille explications >> https://www.facebook.com/audreyjesuslove/
☺ Mahaut (Paris – France)
tags: #grossophobie #drogue #pansexualité #féminisme
"Restez Drama, vous êtes une Queen"
Journaliste biberonnée à la politique, Mahaut a obtenu son bac avec mention écriture inclusive, spécialité anti-grossophobie.
Dans son spectacle, elle livre tous ses secrets et aborde des sujets engagés comme le port du bermudas. Avec son cynisme pailleté, elle vous apprendra à vivre la vie de château low cost.
Un manifeste d'amour, de féminisme et de fête, pour tout public, sauf les enfants. Jamais les enfants.
OUVERT A TOU-TE-S
Tarif unique: 10€
Réservations très conseillées (les places vont partir comme des petits falafels à un apéro lesbien): https://billetto.fr/e/audrey-jesus-mahaut-ame-queer-stand-up-lez-do-it-billets-392835
Facebook-link: hier
★ Zondag 24 nov: • 11:00-13:30 Super-Brunch at Super Fourchette // L-Festival 2019

Lesbiennes van over heel de wereld, bisexuelen in alle kleuren, queers met brillen, pansexuele globetrotters, trans' cinefielen, feestelijke feministen, bondgenoten van alle genders, dit L-Festival 2019 is er voor jullie!
Niks beter dan een brunch om je op zondagmorgen te verwennen?
Vegetarisch, vegan of flexitarisch, bij dit voortreffelijk buffet komt iedereen aan zijn trekken, en zoveel als je wilt.
Om je alvast te doen watertanden, hier een greep uit het menu:
weense pasteitjes, gegrilde kip met honing en paprika, slaatjes, gegrilde feta, couscous, humus, geroosterde groenten, gebraad, desserten …
En dat alles met een warme drank naar keus + een glas fruitsap.
Deze brunch is een gelegenheid om je crew bijeen te brengen, leuke personen weer tegen te komen die je tegen het lijf liep op het L-Festival, de lekkernijen te proeven van Marie-Eve en Charlotte, tijdens het eten nieuwe artiesten te ontdekken (resto met platen!) … om daarna samen te manifesteren tegen het Geweld aangedaan aan vrouwen?
Zoveel goede redenen ! Nodig dus je vriendinnen uit, je buurvrouw, je moeder, je oma en je zus… We verwachten heel wat volk.
25 EUR / persoon (buffet + 1 warme drank + 1 fruitsap)
Je moet reserveren, ofwel bij het restaurant tijdens de openingsuren:
– van maandag tot vrijdag van 12u tot 16u
of via superfourchetteresto@gmail.com
Facebook-link: hier
★ Zondag 24 nov: • 14:30-16:30 Queer Crew at Ending Violence Against Women March

Op 24 november zal de L-Festival mee betogen bij de nationale feministe betoging tegen geweld tegen vrouwen met een Queer Crew.
Je kunt ons spotten met regenboogvlaggen.Breng uw vlaggen, banners, uithangborden met slogans, enz … mee als u ze hebt.
Afspraak om 14.00 aan de (zie foto)
>> Hieronder de oproep van de Mirabal platform:
https://www.facebook.com/events/2401380906575559/
*** Deze manifestatie wordt georganiseerd door het platform Mirabal, die ongeveer zestig verenigingen en organisaties verenigt. Oproep hier: https://mirabalbelgium.org/
Facebook-link : hier
★ Zondag 24 nov: 19:00-21:00 Colette - Screening // L-Festival
Kom af deze zondag avond voor een gezellige projectie van "Colette", een biografie van het leven van Gabrielle Sidonie Colette, één van Frankrijk's meest internationale (biseksuele) novelschrijfsters.
Colette is al jong getrouwd met Henry "Willy" Gauthier-Villars, een verleidelijke egocentrische schrijver. Haar creativiteit bloeit open in het begin van de jaren 20 in Parijs, wanneer Willy van haar profiteert door zich uit te geven als de auteur van "Claudine". Het is een reeks sensuele verhalen die de literatuur scène schokkend vind. Maar Colette vecht zich vrij, neemt weer bezit van haar kunst, en gaat vooral vrij liefhebben, aan de heteronormatieve waarden voorbij.

Facebook-link : hier
★ Mondag 25 nov: 18:30-00:00 Pompon Sauvage & KaraoGouine // L-Festival // The Crazy Circle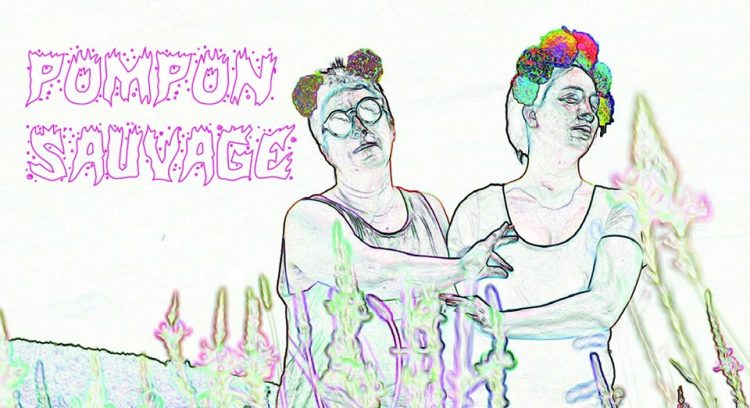 Pompon Sauvage débarque au Crazy Circle pour une soirée intimiste-audacieuse-délirante-chaotique-dansante !
Ce duo électro-pop-rock tord le cou à la chanson d'amour et aborde, avec poésie et parfois humour et autodérision, des sujets sérieux tels que le lesbianisme, l'érotisme, la folie ou l'infanticide.
Elles frétillent, pétillent, griffent, mordent et ne vous laisseront pas indemne.
www.pomponsauvage.com
Entrée gratuite – Un chapeau passera pour les artistes
Lieu : The Crazy Circle à Ixelles, bar LGBTQI+ tenu par un couple lesbien
La soirée se poursuivra en musique avec un KaraoGouine. Prends le micro et rends hommage (massacre) les chansons de tes artistes queer préféré.e.s.
Ouverture des portes : 18h30
Concert : 19h à 20h
KaraoGouine : 20h30
Facebook-link: hier
★ Dinsdag 26 nov: • 19:00-21:00 Missfitte Talks by Creatis // Focus on an inclusive nightlife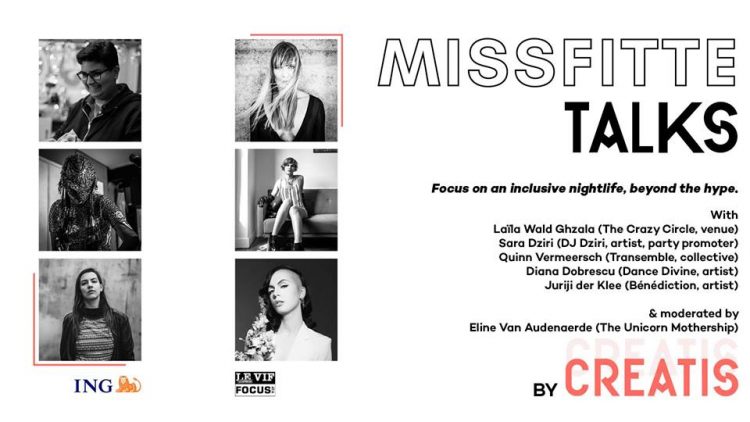 Creatis, résidence d'entrepreneurs culturels supported by ING Belgium invite you to the first MISSFITTE TALKS 🌙
𝙏𝙤𝙬𝙖𝙧𝙙𝙨 𝙖𝙣 𝙞𝙣𝙘𝙡𝙪𝙨𝙞𝙫𝙚 𝙣𝙞𝙜𝙝𝙩𝙡𝙞𝙛𝙚, 𝙗𝙚𝙮𝙤𝙣𝙙 𝙩𝙝𝙚 𝙝𝙮𝙥𝙚.
Through a non-conforming and self-critical prism we will navigate narratives of inclusion around the interactions between sexuality, gender, race, background, accessibility and artistic disciplines in today's Brussels nightlife, and what role we shall play in its future.
We want to trigger a debate in a multi-shared space that offers itself as a starting point for a discussion that will need to continue beyond the trends.
This meeting is moderated by
💫 Eline Van Audenaerde, entrepreneur and founder of The Unicorn Mothership. She empowers DJs to prioritise their well-being and chase a sustainable in electronic music through holistic empowerment coaching. As a well-being evangelist, she helps raise awareness for mental health in electronic music through speaking engagements and with her radio show Mind The Music. She also advocates for equality, diversity and a positive, healthy work environment in the music industry through her proactive involvement in networks and organisations like shesaid.so, Women In Music and the Association for Electronic Music (AFEM).
With
💫 Sara Dziri, aka DJ Dziri, is a Brussels-based internationally touring DJ, producer and promoter, resident at Kiosk Radio and founder and resident of Souk Sessions, an electronic club night inviting artists who combine electronic music with the musical tradition from the MENA region. She also recently launched a new concept called Not Your Techno, which broadens the horizon of regular club nights, bringing unusual electronic music and line ups, with a queer and feminist take on things.
💫 Diana Dobrescu, began her musical, scenic project Dance Divine stage in 2017. In 2018, she released her first album 'Cake Space Great Again' and performed it around Europe. In 2019, she performs and evolves using a prototype of sound armor that she wears on stage, metamorphosed into an amazon cyborg !
💫 Laïla Wald Ghzala from The Crazy Circle. With her companion Axelle, the lesbian couple took over the tiny cozy bar located in Ixelles in February 2019. They wanted to transform it into a lesbian bar open to the LGBTQI+ community and their allies: a safe space embracing diversity, a place of expression for queer artists. After a downsizing one year ago Laïla took the opportunity to embark in a project that makes more sense to her: opening the bar she would like to go to, a place where you feel like you can be yourself.
💫 Quinn Vermeersch was born as a boy in Knokke-Heist in 1993 but nowadays they live in a contemporary Brussels as a non-binary femme. They have the honor to be part of the Transemble Collective, that organized in the spring of 2019 the Brussels' first Transpride. Having a master in Applied Economics, Quinn is convinced that space, work, living and nightlife are strongly connected when discriminatory issues come. During this talk they focus on this interconnectivity that plays when it comes to gender, race, background.. and the impact it has on the possibility for LGBTQI* people to organize and reclaim space during day and night.
💫 Juriji der Klee, founder of BENEDICTION – Rituels Exceptionnels, a mysterious creature with an angelic face, is a countertenor, composer, songwriter and melodist. Immersed in pop culture, he creates electro-pop music away from the mainstream, where lyrical singing is made sacred again, transcending sounds, genders and eras.
This event is an extension activity of the L-Festival / Lesborama.
The ING Art Center is wheelchair accessible.
☄ ING & Creatis offer to all the participants of the talks FREE entrance and guided visit for its new annual exhibition "Love. Hate. Debate. Start a conversation with the ING Collection" ☄
Program
18:00-19:00 Talks
19:00-19:30 Q&A
19:30-21:00 Drink & visit of the ING Art Center exhibition
FREE BUT ON REGISTRATION ON EVENTBRITE
A partnership between MISSFITTE (resident of Creatis), Creatis & LeVif-FocusVif
Support by ING Belgique, KissKissBankBank & Duvel.
Facebook link: here
★ Dinsdag 26 nov : 19:00-21:00 Atelier Trans* pour les nulLEs spécial L-Festival

Transgenres : qui sont yels ? Quels sont leurs questionnements ? Quels parcours de transitions ? Quelles discriminations ?
L'objectif de cet atelier « Trans* pour les nulLEs » est de sensibiliser de façon interactive le public aux transidentités, et de montrer comment la construction sociale des normes et stéréotypes de genres peut conduire à des phénomènes d'exclusion et de discrimination.
PAF: 5€
Pour plus de renseignement, et pour vous inscrire: http://www.genrespluriels.be/Ateliers-Trans-pour-les-nulLEs-904
Facebook-link: hier
★ Dinsdag 26 nov : 19:00-22:00 Expérience sonore consciente / Sonorous conscientious experience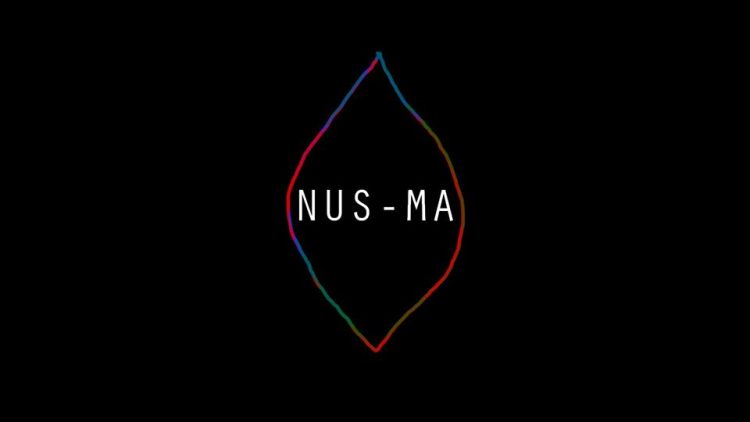 Entrez dans la structure géométrique vulvéenne pour vous joindre à Nus-Ma où nous allons occuper cet espace, pour collectivement nous rappelez notre droit fondamental et sacré au bien être physique et psychique.
Cette séance oscillera entre relaxation et méditation, et est soutenue par l'emploi de la music, du chant, de textes informatifs récités en plusieurs langues, d'huiles essentielles et des éléments de notre planète.
Venez comme vous êtes, avec des vêtements confortables.
Il y aura à votre disponibilité des coussins, pensez à prendre une couverture pour vous tenir chaud !
La fin de séance sera suivie d'un moment collectif au tour de boissons chaudes et de nourriture saine, pour rendre au corps ce que nous aurons donné.es, tous.tes ensemble.
Nus-ma est un projet féministe et activiste semi-passif à nature modulable ayant pour intention de créer un « safe space » où nous, individus s'identifiant comme queer, lesbienne, transgenre, non binaire, bisexuelle, intersex, pouvons nous rassembler pour mutuellement s'élever face à l'adversité de ce monde patriarcale. Durant cette séance, nous célébrerons toute expression émotive au travers de l'échange énergétique.
Les informations qui seront partagées avec les personnes participant à cette séance pourront parfois être interprétés comme étant binaire, le concept d'énergie féminine sera contextualisé. Sachez qu'ici énergie féminine signifie une énergie qui porte l'essence de la vie qui est présente en tout être humain, en toute chose vivante. Le genre est transcendé.
Réservez votre place en envoyant un mail à : delphine@rainbowhouse.be
Les places sont limitées, la participation se fait uniquement sous réservation.
Au plaisir de vous y voir,
Inès Malonne avec Diana Dobrescu et Lucie Gresil.
Lien Facebook : ici
★ Woensdag 27 nov : 19:30-21:30 Tahnee, Lucie Carbone, Audrey Baldassare / Queer Stand-Up part.2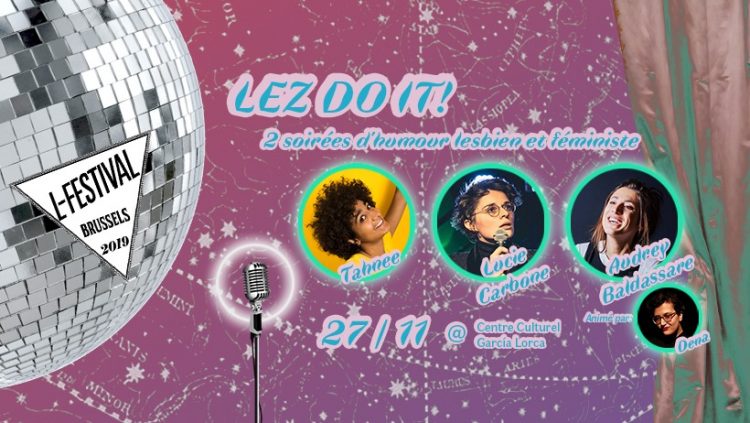 >> LEZ DO IT <<
★ Queer Stand-Up ★ (Part.2)
L-Festival présente la fine fleur du stand-up francophone: Tahnee, Lucie Carbone, Audrey Baldassare
Présentation: D E N A (Bruxelles)
Préparez vos joues, étirez vos zygomatiques, oubliez votre réunion du mardi matin, 3 performeuses s'emparent du Centre Garcia Lorca pour un show 100% meufs, 100% queer, et 100% féministe. Pas si fréquent, vous me direz? Carrément rare oui!
Venez découvrir, venez applaudir:
☺ Tahnee, l'Autre (Paris, France)
tags: #lesbienne #métisse #normandie
Elle a fait un carton au L-Festival l'an dernier, Tahnee revient pour l'édition 2019 avec la nouvelle version de son spectacle, avec encore plus de blagues…
Quels sont les effets du défrisage ?
Est-ce normal de regarder quatre fois la Vie d'Adèle ?
Peut-on aimer la planète et le saucisson ?
Est-ce possible de vivre sans jupe ?
Normes, diktats, drague, poils, comment s'en sortir ?
Avec humour, sincérité et finesse, Tahnee questionne et porte un regard décalé sur le monde d'aujourd'hui, un monde riche de diversités, culturelles, de genres et de sexualités.
☺ Lucie Carbone (Paris, France)
tags: #comingout #trajetdevie
Éternelle première de la classe, Lucie voit la vie comme le code de la route: avec des bonnes et des mauvaises réponses.
Petite, elle a avait tout bon, Hypokhâgne, Khâgne, Science Po et puis Badaboum ! Petit à petit, elle est socialement devenue une mauvaise réponse. Bizarre.
Du coup, elle s'est demandé: c'est quoi grandir ? C'est quoi devenir adulte ?
☺ Audrey Baldassare (Paris, France)
tags: #lesbophobie #confianceensoi #mort
Audrey Baldassare c'est une fille au capital sympathie indéniable, qui dit des trucs mignonnement atroces, qui possède une énergie aussi débordante que ses poignées d'amour et qui est fascinée par la mort.
En revanche elle écrit vachement mieux à l'oral. Donc le mieux c'est d'aller voir le spectacle, même après avoir lu le résumé.
De toute façon ce qui va vous convaincre c'est le fait qu'il y ait de bonnes critiques. Et il y en a plein.
OUVERT A TOU-TE-S
>>>>>>>>>
Tarif unique et démocratique: 10€
Réservations très conseillées (les places vont partir comme des petits falafels à un apéro lesbien): https://billetto.fr/e/tahnee-lucie-carbone-audrey-baldassare-queer-stand-up-lez-do-it-billets-392981
>>>>>>>>>>>>>>>>>>>>>>>>>>>>>>>>>>>>>>>>>>>>>>>>
En collaboration avec la Pac Régionale de Bruxelles
Lien Facebook : ici
★ Woensdag 27 nov : 20:00-23:00 L-Festival // Pega + Lavender Witch = Post Punk Grunge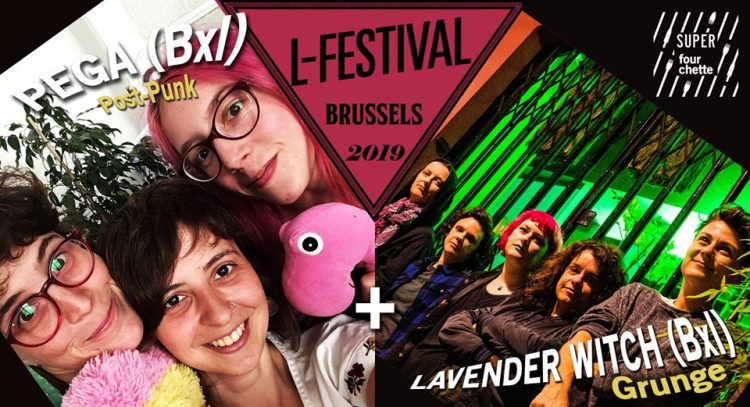 The L-Festival have supported us since the beginning. This year we decided to put on a concert together! Here it goes : PEGA the fabulous post punk Brussels-based band will play for the second time at Super Fourchette. And our friends LAVENDER WITCH, will also join us, and spread their riot grrrl punk sound and sharp melodies!
— — —
***PEGA (Bxl) Post Punk***
At first a humble attic project, later moving to a basement, and currently a bedroom, PEGA began with 6 women meeting on Sundays for a "mumusicale" cleansing session. Then there were 5, then 4, and finally 3: Aude (bass and voice), Bárbara (guitar, voice; member of TUVALU) and Leslie (drums). Now, PEGA is a type of music that sets your inner wiggle in motion, revealing you soul, or at least trying to (magic is still an unstable science). This is Dino-post-punk that sways with a heavy gait, noise-rock released straight from an apartment ficus. Prestigious rock'n roll guaranteed!
https://pega-bxl.bandcamp.com/releases
https://youtu.be/WDuyGrXn96Q
+
LAVENDER WITCH (Bxl) Grunge
Influencées par la scène grunge et riot grrrl des années 90, ces cinq musicières lancent leurs sorts dans un son qu'elles décrivent comme du Witchy FemiPunk. Un mélange enchanté de textes engagés et de guitares tranchantes. Leur premier album est prévu pour la fin de l'année.
https://lavenderwitch.bandcamp.com/releases
Doors : 8PM
Concerts : 8:30PM
Prix libre // Snacks & drinks available !!
Facebook link: here
★ Donderdag 28 nov : 17:00-23:00 Match Afterwork L-Festival Edition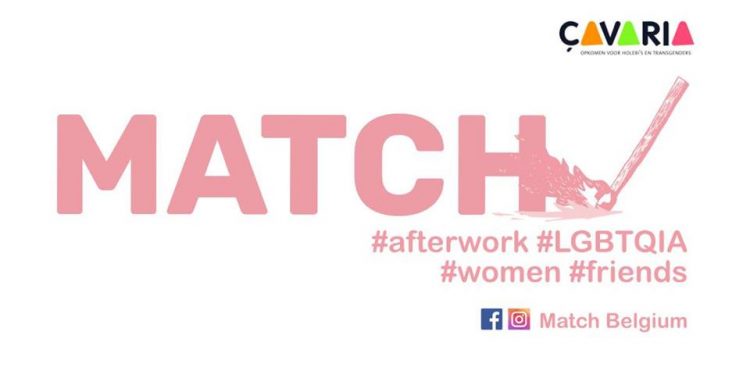 #positivevibesonly op onze events.
Match is een nieuwe vzw gericht naar alle type vrouwen in het LGBTQIA spectrum én al hun vrienden en vriendinnen. De vzw organiseert events om zo de community te ondersteunen, te verbinden en te versterken.
Ongeveer een keer per twee maanden nodigt Match jullie allen uit om fijne momenten beleven.
Gratis ingang. enkel jouw glimlach is vereist! Kom zoals je bent.
Volgens ons begint alles met lekker vriendelijk zijn. Hoog tijd dat we elkaar ontmoeten, inspireren, elkaar empoweren en plezier hebben tijdens het dansen, eten, drinken, werken en zoveel meer.
#kindnessisourlanguage
#karmaismybitch
#supporteachother #beyourself #youarefab
Facebook-link: hier
★ Donderdag 28 nov : 18:00-22:00 Vernissage°Schneck: -Ectomie patriarcale° vol1
Geplaatst door Xeno- op Dinsdag 22 oktober 2019
Nous avons le plaisir de vous convier au vernissage de l'exposition collective SCHNEK :-Ectomie patriarcale organisée par la plateforme artistique Xeno- sous l'impulsion d'un seul sujet : NOS CORPS.
–
Nos corps
–
Conditionnés par des règles
entourés de honte et de censure
marqués par la fétichisation
l'objectivation, l'effacement
–
Nos corps
–
Le centre et le sujet même des travaux artistiques
d'hommes
euro-centrés
cis
hétéros
La grande majorité des œuvres d'art
approprie
conquiert
occupe
–
Nos corps
–
Ce constat conduit à l'action
Utiliser nos corps comme sujet
Questionner
Confronter leurs représentations,
Leurs espaces
Les transformer en lieu de lutte continuelle
Décoloniser
–
Nos corps
–
L'exposition réunit les œuvres de 5 artistes contemporaines aux pratiques diverses ➠
Aïcha Sñoussi
Mélanie Peduzzi
Mac Coco
Ichraf Nasri
Pierre Paul Jacques
Pour cette première édition Xeno- collabore avec la Maison Bergamini, L-Festival / Lesborama et Mélanie Peduzzi
Le vernissage se tiendra le jeudi 28 Novembre 2019 à partir de 18h et s'ouvrira par deux performances.
L'exposition sera visible tous les mercredis et samedis de 12h à
18h et pendant la semaine sur rendez-vous jusqu'au 19 décembre, date du finissage.
Contact :riccardo@riccardobergamini.com ou
xenoplateforme@gmail.com
Xén(o)- est une plateforme artistique dédiée aux femmes* en particulier les racisées, aux queer et aux non-binaires.
Graphisme: Sylvain Brillault
Lien Facebook : ici
★ Donderdag 28 nov : 18:00-21:00 Projection du film Colette / L Festival à Mons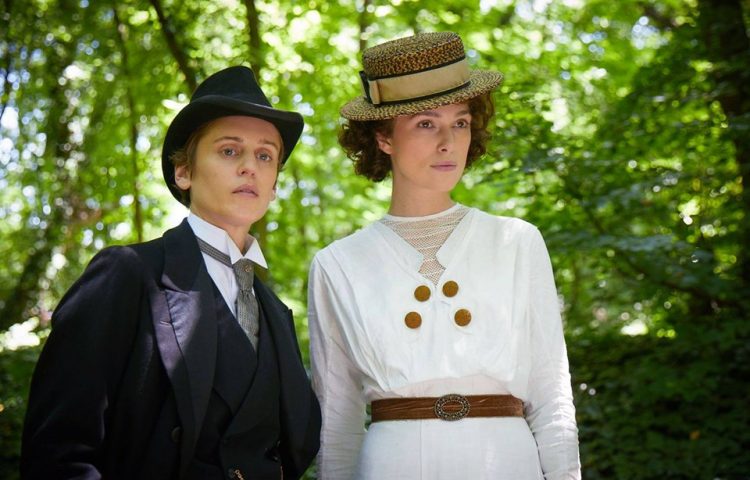 Le L-Festival, La Mac de Mons, Tels Quels et les Nouvelles Antigone se réjouissent de vous inviter cette année à une projection spéciale dans le cadre du L-Festival !
Rejoins-nous le jeudi 28/11 à 18H pour la projection du film "Colette", une biographie qui retrace la vie de Gabrielle Sidonie Colette, une des plus célèbres romancières (bisexuelle) internationales de la littérature française.
Projection gratuite avec bar associatif!
Lien Facebook : ici
★ Vrijdag 29 nov : 19:00-23:00 Lesbos Poetry Night // L-Festival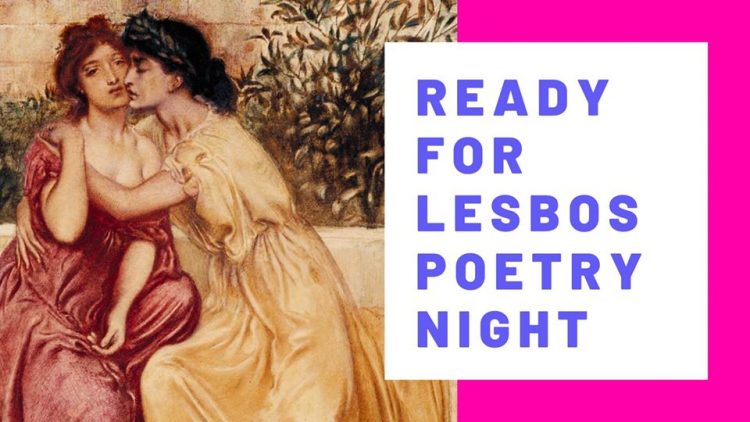 Lesbos Poetry Night // L-Festival
▲▼▲▼▲▼▲▼▲▼▲▼▲▼▲▼▲▼▲▼▲▼▲▼▲▼▲
Een avond om poëzie in al haar vormen te vieren.
RainbowHouse en huisvandeMens Brussel geven lesbische, queer en non-binaire mensen met een Noord-Afrikaanse achtergrond een stem. We ontmoeten jullie graag op 29 november in het Muntpunt Grand Café. Laat jullie meeslepen door de verzen en accenten van Yasmina Lemsiah, Sarah Hashimi & Sophia Lannau. Hun zullen samen een uitwisseling doen rond de thema's antiracisme, huiselijk geweld, xenofobie, seksuele intimidatie en de moeilijkheden die non-binaire mensen ondervinden. Na afloop neemt DJ Choka jullie graag mee in haar wereld van dans en beweging op het ritme van de oriëntaalse wereld.
▲▼▲▼▲▼▲▼▲▼▲▼▲▼▲▼▲▼▲▼▲▼▲▼▲▼▲
☛ Waar: Muntpunt Grand Café (Rue Léopold 2, 1000 Bruxelles)
☛ Wanneer: 29 November 2019
☛ Extra: eerst glas wordt aangeboden
Facebook link: here
★ Zaterdag 30 nov : 16:00-19:00 A radical self care workshop dedicated to queers and feminists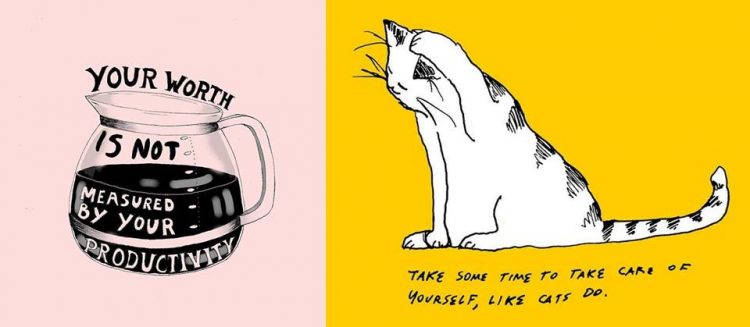 "In being everything for everyone, when am I anything for myself?" – Malebo Sephodi, Miss Behave
In a society that glorifies productivity and discriminates and punishes difference, being marginalized and taking care of yourself is a radical action.
This workshop is a space for us, as queer feminist activists, to take the time to determine for ourselves who we want to be, rather
than who society wants us to be.
Together we will critically re-think the ways in which we struggle, and confront our own prejudices surrounding what it means to be 'a good activist'.
We will work towards developing tools to start practicing 'the world that we want' in the ways we organize ourselves as individuals, and as communities.
We will work with how to create our own self care strategies and how to set up our own healthy barriers.
As community activists and care takers we are supporting areas of our society in critical states.
We need to continue this work, without running ourselves into the ground. Radical self care, recuperation and pleasure are crucial for continuing our struggle for a sustainable society for all.
The workshop is inclusive and open to all genders and bodies, but encourages individuals who identify or have been identified as queer femme and/or female to participate.
The work doesn't require any experience, just come as you are and with clothes that you feel comfortable and can move in.
Reserve your place by sending a mail to: xiritaranoir@gmail.com
Places are limited and attendance is through booking only.
Feel free to contact Xiri Tara Noir if you have any doubts and questions.
>> Xiri Tara Noir is a community and pleasure activist, organizer, performance artist and choreographer. S.he has facilitated research labs, workshops and lectures for artists and activists, who are both able-bodied and differently-abled-bodied. As an activist s.he has her roots in the radical queer feminist and sex worker community and has been working in various collaborations with women on the edge of society, amongst other things as a teacher of feminist self defense. In her choreographic practice s.he examines the edges that separates and connect academic research from our everyday gestures and practices. Within a variation and exchange of social
roles her work explores the boundaries and hierarchies between 'artist' and 'audience', and between what it means to be observing or participating in an event.
www.xiritaranoir.wordpress.com
"if we're going to heal, let it be glorious."
– Beyoncé
Facebook link: here
★ Zaterdag 30 nov : 16:00-17:30 Boxe Féministe // Initiation par Louise Dugeny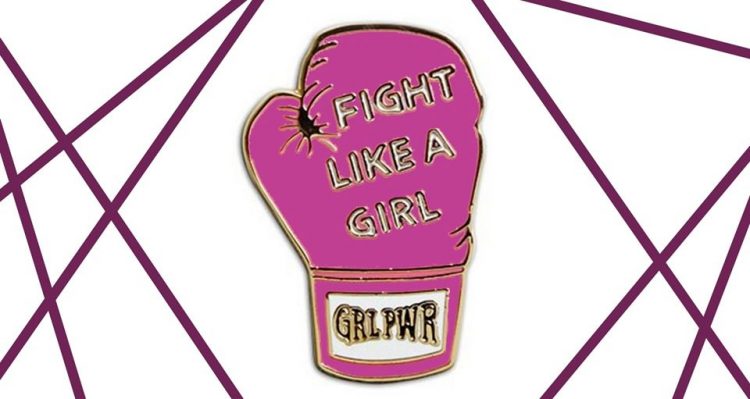 Initiation à la boxe féministe, par Louise Dugeny.
– 16:00 – 17:30
– En non mixité choisie: femmes, personnes trans et non-binaires
– Français / Anglais
– Inscription via google form: https://forms.gle/eS18MRvyoZatSgNn8
– Amener ses gants ou prévenir à l'avance si besoin d'une paire (nombre limité)
– Participation: prix libre
Adresse: Crazy Circle, Rue du Prince Royal 11, 1050 Ixelles
Facebook link: here
★ Zaterdag 30 nov : 14:30-15:45 A Bras Le Corps / Documentaire audio sur l'Autodéfense Féministe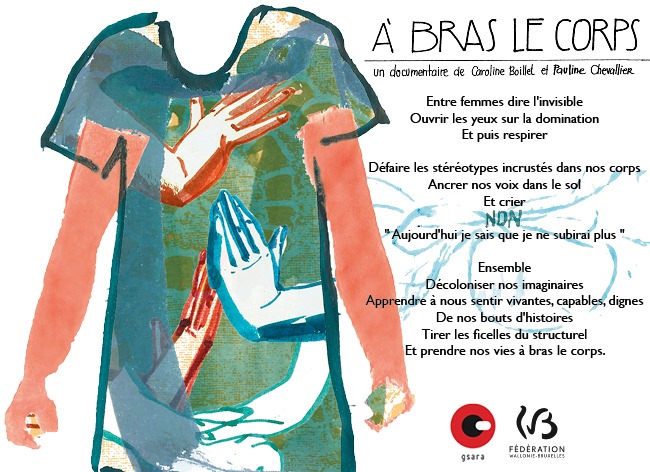 A BRAS LE CORPS, un documentaire choral sur les pratiques d'autodéfense féministes
Nous, caroline et Pauline, artistes documentaires, avons suivi des stages d'autodéfense en mixité choisie femmes* à Garance en Belgique durant trois ans.
Nous avons recueilli une parole précieuse dans ces cercles, pour contribuer à déconstruire nos préjugés, mais aussi pour nous outiller contre les violences hétéro-cis-patriarcales. Apprendre à se défendre donc. Nous voulions que le documentaire lui-même puisse apporter plus qu'un constat, des pistes de solutions et les sensations d'un corps commun. Il s'agit d'une création de 52 min. Une parole collective, une contribution pour nous redonner force et courage.
* selon autodéfinition
PS: un aperçu de notre démarche documentaire
Nous avons suivi ensemble un stage d'autodéfense féministe à l'asbl Garance. Suite à quoi nous décidons de réaliser ce documentaire. Il s'inscrit dans une démarche d'éducation populaire : des concernées prennent la parole!
Et puis notre démarche devient pleinement artistique, nous construisons notre point de vue documentaire, en mettant en place des conditions favorables :
* un dispositif de consentement à priori rend l'espace d'enregistrement complices. Composé avec les formatrices de Garance, il s'adresse aux personnes venues faire un stage. Avant de commencer la pratique, nous leur demandons leur accord explicite pour notre présence et celle du micro, le « non » de l'une d'entre elles et nous repartons (c'est arrivé une fois).
* un dispositif d'enregistrement : une réalisatrice est à la perche plongée dans le son, l'autre au coeur de l'expérience engagée dans le groupe. Cette immersion recueille le son au plus proche des corps et des voix.
* enfin le consentement à postériori : nous avons envoyé une étape du montage quasi aboutie à toutes les personnes que nous avons enregistrées (une soixantaine), pour avoir leur accord explicite, et qu'ils et elles aient choisi de faire entendre leur voix.
Notre démarche prend forme durant 3 ans de collaboration.
Nous serons contentes de vos retours, questions, rencontres, à docautodefense@gmail.com
Entrée libre et gratuite
Sans réservation
Facebook link: here
★ Zaterdag 30 nov : 20:00-04:00 L-Festival Closing Party by Dance Divine x Missfitte
visuals by Maria Ilia

Geplaatst door MISSFITTE op Donderdag 31 oktober 2019
L-Festival the yearly lesbian, bi, trans and feminist festival, invites Dance Divine & MISSFITTE to take over their closing, a perfect occasion to bump again into the cute girl you met at this workshop, to get together with our lovely volunteers, and to shake your ASSets on the dancefloor:
𝘾𝙖𝙡𝙡𝙞𝙣𝙜 𝙖𝙡𝙡 𝙘𝙧𝙚𝙖𝙩𝙪𝙧𝙚𝙨 𝙩𝙤 𝙜𝙖𝙩𝙝𝙚𝙧 𝙞𝙣 𝙦𝙪𝙚𝙚𝙧 𝙜𝙡𝙤𝙧𝙮 𝙛𝙤𝙧 𝙖 𝙨𝙥𝙚𝙘𝙞𝙖𝙡 𝙣𝙞𝙜𝙝𝙩𝙨𝙝𝙞𝙛𝙩 𝙤𝙛 𝙥𝙚𝙧𝙛𝙤𝙧𝙢𝙖𝙩𝙞𝙫𝙚 𝙧𝙖𝙫𝙚 𝙗𝙮 𝙢𝙚𝙖𝙣𝙨 𝙤𝙛 𝙨𝙤𝙛𝙩𝙣𝙚𝙨𝙨. 𝙄𝙢𝙢𝙚𝙧𝙨𝙚 𝙮𝙤𝙪𝙧𝙨𝙚𝙡𝙛 𝙞𝙣 𝙖 𝙙𝙚𝙡𝙞𝙘𝙖𝙩𝙚𝙡𝙮 𝙘𝙪𝙧𝙖𝙩𝙚𝙙 𝙨𝙥𝙚𝙘𝙩𝙧𝙪𝙢 𝙤𝙛 𝙖𝙧𝙩𝙨 𝙖𝙣𝙙 𝙘𝙤𝙨𝙢𝙞𝙘 𝙛𝙧𝙚𝙦𝙪𝙚𝙣𝙘𝙞𝙚𝙨 𝙩𝙝𝙖𝙩 𝙬𝙞𝙡𝙡 𝙨𝙝𝙖𝙠𝙚 𝙤𝙪𝙧 𝙨𝙮𝙨𝙩𝙚𝙢 𝙩𝙤 𝙩𝙝𝙚 𝙪𝙣𝙙𝙚𝙧𝙜𝙧𝙤𝙪𝙣𝙙. Curated by DANCE DIVINE & MISSFITTE
~~~~~~~~~~~~~~~~~~~~~~~~~~~~~~~~~~~~~~~~~
𝐏𝐑𝐎𝐆𝐑𝐀𝐌𝐌𝐄
~~~~~~~~~~~~~~~~~~~~~~~~~~~~~~~~~~~~~~~~~
◤ 𝙊𝙋𝙀𝙉 𝙎𝙏𝘼𝙂𝙀, animated by Butchibou & Luz De Amor
◤ 𝘿𝘼𝙉𝘾𝙀 𝘿𝙄𝙑𝙄𝙉𝙀, Cyborg Amazon live act
◤ 𝙅𝘼𝙈𝙀𝙎 ¬‡,∫µ , dj set
◤ 𝙈𝙀𝙇𝙄𝙎𝙎𝘼 𝙅𝙐𝙄𝘾𝙀, dj set
◤ 𝘿𝘼𝙉𝘾𝙀 𝘿𝙄𝙑𝙄𝙉𝙀, dj set
◤ 𝘼𝙉𝙉𝘼 𝙔𝘼𝘿, dj set
++ exhibitions ++
◤ 𝙈 𝘿𝘼𝘽𝘽𝘼𝘿𝙄𝙀, 'All gender is drag'
www.instagram.com/emptymindscanfillagain
"All gender is drag" is a project that uses black and white silver photography as a medium to capture the bodies of M's friends and acquaintances. The photos offer viewers diverse body identities – the gender is no longer binary, it is composed of a multitude of intersecting, altered, performed and deconstructed identities. The goal here is to erase any relevance of assigning a gender to any person. The project also questions notions of censorship and pre-established standards of beauty. M usually displays their photos in the street in order to reclaim the public space traditionally invisible in terms of representation of queer, transgender and unusual bodies.
◤ 𝙑𝙐𝙇𝙑𝘼 𝙇𝘼 𝙑𝙄𝙏𝘼, expo drawings
www.instagram.com/vulvalavita
A participatory project that aims to deconstruct the taboos around the vulva. Made from photos sent to the artist, these anonymous portraits bear witness to a diversity that atomizes the norm.
𝐓𝐈𝐂𝐊𝐄𝐓𝐒
~~~~~~~~~~~~~~~~~~~~~~~~~~~~~~~~~~~~~~~~~
6€ presales
shorturl.at/oDHO1
8€ at the door
Dance Divine is a performer, music producer & party organiser of 'BlingBling/drag yourself' nights.
She works around herself-image trans mutation in both music & performance.
She will perform her cyborg amazon character & hold defence against identity norms with independant sound sprinkler for the upcoming mythical closing. Just watch that banner works
www.dianadobrescu.xyz
@dancedivine_
debut album available
https://ragtimedistribution.bandcamp.com/album/cake-space-great-again
MISSFITTE is • a gathering of burning souls & liberated bodies • a caring shelter for hedonistic beats & rave creatures • an open-minded family that embraces respect & diversity • a warm space for queer & underrepresented communities.
a women's raveground.
Facebook link: here
Het L-Festival is een les-bi-trans en feministisch festival georganiseerd door het RainbowHouse Brussels.