Projects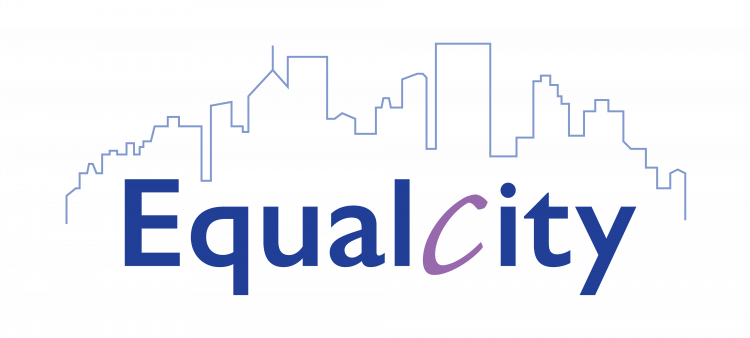 Equal(c)ity project
Equal(c)ity is our first European project. Coordinated by IOM (International organization for Migration), its objectives are to focus on Sexual and gender-based violence against people from migrant communities, and to mainstream questions of migration and interculturality in the fabric of urban services in Europe.
It is currently taking place in four cities, each working with a different category of people who are victims or at risk of sexual or gender-based violence. Luxembourg is working on women, Gothenburg on families, and Rome on unaccompanied minors.
Brussels is represented by the RainbowHouse in collaboration with Equal.Brussels and focuses on LGBTQI+ people. The aim of our project is to set up safe spaces for LGBTQI+ people with a migration background in a sustainable way through the development of a toolbox. This toolkit will contain guidelines for the implementation of safe spaces, a kind of user manual to manage these spaces, a training for the different structures and associations that are in contact with LGBTQI+ people from migrant communities, and an awareness campaign on gender violence and the existence of safe spaces for LGBTQI+ people from migrant communities.
The project was officially launched on 13 January 2020 and will run until the end of 2021.
Preventing sexual and gender-based violence in migrant communities and strengthening support to survivors in EU cities
Update May 2020: LGBTQI+ migrants
Five months have passed since the start of the regional Equal(c)ity project, coordinated by the Country Office of Belgium and Luxembourg of the International Organization for Migration (IOM) and funded by the European Commission. The project aims to improve urban services in 4 different EU cities to tackle sexual and gender-based violence (SGBV) against migrants, by each developing a specific toolbox:
Brussels: SGBV against LGBTQI+ migrants and the creation of safe spaces

Luxembourg: SGBV against female migrants

Rome: SGBV against unaccompanied migrant children (UMC)

Gothenburg: SGBV in a family context, focusing on honor-related crimes
Now, more than ever, urban services are under pressure, first line workers are at the forefront of a relentless, strenuous battle whilst socio-economic inequalities are exacerbated. COVID-19 has the world in its grip and continues to put a strain on local, national and global resources. Despite the challenging circumstances, the project Equal(c)ity project partners are continuing their activities. 
With this thematic project update, the project team would like to brief you on the activities already conducted, the future steps, and the impact of COVID-19 on migrant communities.
You can access the other three project updates here: Female Migrants / UMC / Migrant Families
Objectives of the project in Brussels
IOM Belgium and Luxembourg is partnering with Rainbowhouse Brussels and equal.brussels (the equal opportunity department of the Brussels-Capital Region) to address SGBV against LGBTQI+ people from migrant communities. LGBTQI+ is used as an umbrella term for Lesbian, Gay, Bisexual, Trans*, Queer and Intersex people, while the plus ("+") refers to all other marginalized gender identities and sexual orientations. The objective will be realized through setting up safe spaces and improving existing urban services to better serve LGBTQI+ migrants. In this context, "migrant community" is understood as everyone perceived as being from a migrant background, from asylum seekers and refugees to diaspora members from 2nd and 3rd generation. 
LGBTQI+ people represent approximatively 10% of the global population with a relatively equal repartition everywhere in the world. Violence targeting LGBTQI+ people is in itself sexual and/or gender-based. People with a migrant background who are also LGBTQI+ face very specific challenges. This is why Rainbowhouse Brussels and equal.brussels have decided to take an intersectional approach towards the notion of safe space and the definition of the targeted audience. 
The developed toolbox will contain (1) guidelines on safe spaces, (2) standard operating procedures on how to manage them, (3) an awareness-raising strategy aimed at LGBTQI+ migrants to promote the existence of safe spaces and their importance, as well as (4) a training program for the frontline workers involved with them. This toolbox will be created with the understanding that the target group is far from being monolithic and encounters a large array of needs and experiences.
Activities – State of Play
The project partners are currently in the midst of extensive theoretic and field research. The objective of this research is to get a thorough understanding of what constitutes safe spaces for different people in different contexts, to assess the needs, difficulties, and challenges faced by the targeted audience and to collect good practices for the professionals and volunteers working with them. 
Part of this research involves interviews with these frontline workers, LGBTQI+ individuals from a migrant background, and workers from institutions and public services. Other EU cities with experience on the topic are included in this initial research phase. 
Some test-training sessions already took place before the COVID-19 lockdown in order to assess the needs of different publics and the efficiency of the training methods.
Future steps
The upcoming summer months will be employed to develop the four elements of the toolbox detailed above. To ensure the efficiency of the awareness-raising strategy, the project partners plan on organizing focus groups. Of course, this will depend on the evolution of the sanitary situation and current lockdown in the weeks to come. 
An independent and diverse expert panel will provide feedback on the developed tools after the summer 2020. This will guarantee that the tools and instruments are checked by independent practitioners, both from a conceptual/theoretical perspective as from a practical perspective, ensuring replicability of the tools at EU level.
General info on the Equal(c)ity project
Financed by:
the European Union's Rights, Equality and Citizenship Programme (2014-2020)
Implemented by: IOM Belgium and Luxembourg, in collaboration with IOM Italy
With the Support of: Brussels Capital Region and City of Luxembourg 
Geographical coverage: Belgium, Luxembourg, Italy and Sweden.  
Duration: 24 months, started in November 2019