Calendar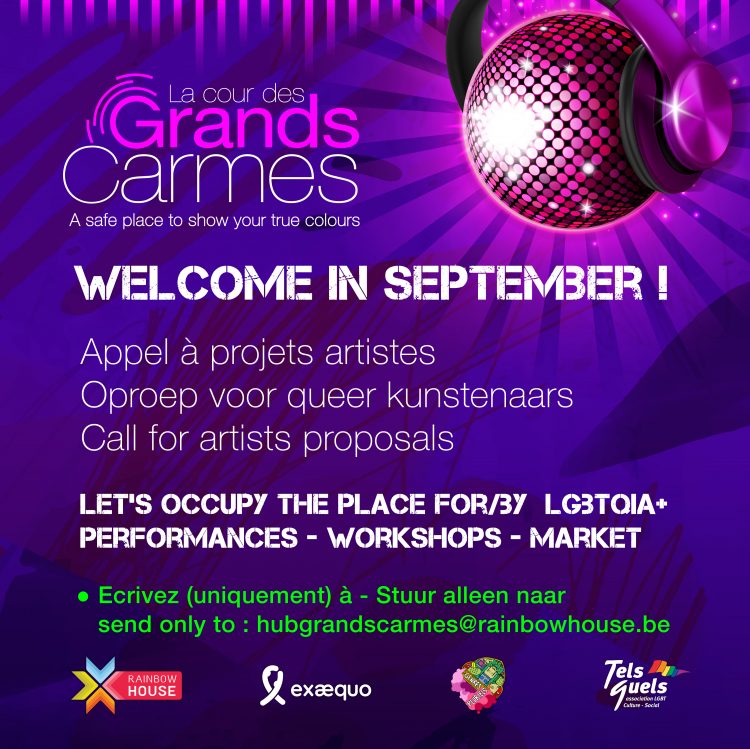 Call for artists at la Cour des Grands Carmes
La Cour des Grands Carmes - 20/22 rue des Grands Carmes
Saturday 10 September 2022 >
Sunday 30 October 2022
Call for queer and lgbtia+ artists and creators
la cour des Grands Carmes is preparing its opening in the framework of a temporary occupation (bar and later training/creative spaces).
One of the missions of the new associative collective aims at the development and well-being of lgbtqia+ people.
This will take the form of cultural activities, training, workshops and the development of arts and crafts.
performances
You are an artist or a collective and you wish to offer artistic or musical performances at La Cour des Grands Carmes? We invite you to occupy our stage to express your talent from September.
Please note that we prefer artists with modest technical needs. Being able to take care of the bar is a plus but is not mandatory.
We are planning weekend programming in the courtyard and will be implementing a joint communication campaign with you.
Send your proposal indicating :
Presentation of the artist / collective
Description of the project / artistic approach
Technical specifications and specific needs
(Two pages maximum)
Artist residencies are not possible at the moment (only one shot)
workshops
Do you provide training in a discipline related to our missions and our audiences?
Workshops with or without a chosen gender.
For adults or young people.
Groups of 5 to 20 people. One-shot sessions or series.
Send us a proposal in one page maximum (content, audience, objectives).
You can attach articles/photos/CV.
Queer market
You are a plastician, an artisan from the community. Your various artistic productions will reach a large audience, especially tourists.
We offer a sheltered space (table) and ensure your visibility/development.
You sell and we share the result (card payment and storage possible)
Shift by series of days (from 4 to 11 pm, Saturday and/or  Sunday).
Send your portfolio and references and prices as well as your availability.
Please send your proposals to hubgrandscarmes@rainbowhouse.be, specifying in the subject line :  Market proposal or workshop proposal or performance proposal (one email per proposal). The selection team will examine the files in end of August. An agreement will be proposed to the creators (information meeting on the weekend of 3 and 4 September).
Start on 7 September, subject to authorisations/formalities.
Welcome !
L'asbl Grands Carmes