Associations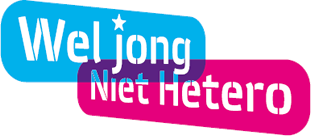 Wel Jong Niet Hetero
Wel Jong Niet Hetero (WJNH) is the expert for gender and sexual diversity for people under 30. The association does its best to enable the youth from Flander and Brussels to live openly their gender identity and their sexual orientation.
WJNH is an association run for and by young LGBT community members on a national, local and digital scale.
On the national level, there is a variety of activities offered by volunteers.

On the regional scale

, WJNH

hosts a group of young people and welcome anyone for fun activities.

On the digital scale, our website is full of information and our forums

(min19.be et weljongniethetero.be/forum/)

are an ideal place to share experiences and meet other young people.
To make it short, we fight so that anyone who doesn't feel at ease in our society full of heteronormativity and gender norms, can on the one hand accept who he/she is and on the other hand feel accepted. Moreover, we want to question and break this norms. It's indeed the only way for everyone to feel safe and be openly who she/he is.
Contact:
e-mail: info@weljongniethetero.be
Adres: Kammerstraat 22 – 9000 GENT
T: 09/335.41.87 |