In the picture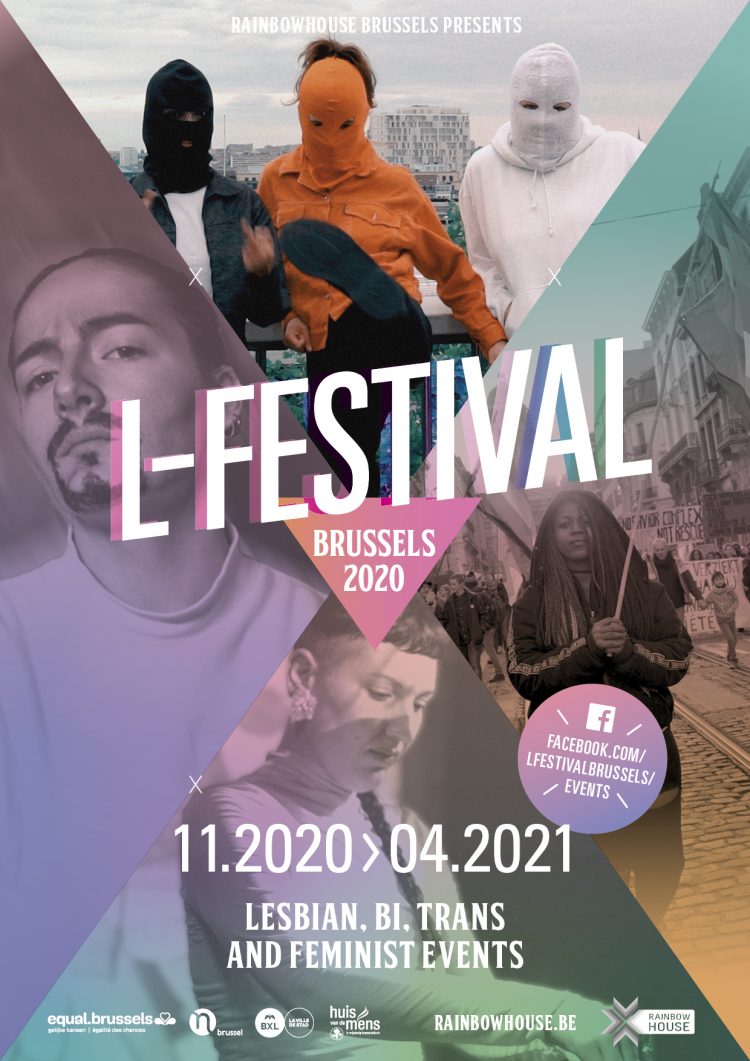 L-Festival 2020
published on 16 November 2020
The L-Festival is back for its 8th edition full of 100% lesbian-bi-trans and feminist events.
Extended and transformed, the festival is adapting to the sanitary situation and offers you a series of dynamic online events starting from the end of November 2020. But it does not end there! Until March 2021, other events, offline this time, will take place in different places of Brussels and more. From the Crazy Circle and the RainbowHouse Brussels to the Beurschouwberg and the Jacques Franck Cultural Center but also the city of Mons, a rich and multidisciplinary program is awaiting you and there's something for everyone…
This year's themes for the festival are self-care and community. These workshops, parties, screenings and talks are a way for us to highlight the importance of coming together as a community. But it is also important to take care of our mental and physical health, to listen to ourselves so we can face and enjoy our life as queer lesbian-bi-trans* people, especially in these trying times.
The festival will begin on Thursday evening, November 26th 2020, with a virtual surprise-event!
Then let's meet online for four powerful and creative events:
On November 28th, Alice Coffin, the french lesbian feminist activist and journalist will introduce her book "Le Génie Lesbien" with a talk with the LGBTQI*friendly psychologist and psychotherapist, Myriam Monheim. (FR)
On December 3rd, let's join Rachel Marie for a discussion on tarot and its place in the feminist movement ! (FR)
And for the dutch-speaking people, Julia and Maïté from the philosophical collective "Troebel" are inviting you to a workshop about queer online dating. Let's talk about love, relationships and connection on December 3rd. (NL)
And to end this first batch of events, on December 5th, FatPositivity and Corps.Cools propose an online drawing session with a fat model. Creative people, get your pens! Beginners, amateurs, professionals, everyone is welcome here! (EN)

"Le génie lesbien" November 28
Starting from January 2021 and depending on the sanitary situation, the L-Festival has a lot planned: a double-screening of "Les Nouvelles Guérillères" and "Women*: What we are fighting for", a concert by the Sing Out choir, two workshops about vulvas, a free thrift shop, Lesbian City Tours, a workshop about erotic collages, a puzzle performance, etc.
There is also a literary evening that gathers three queer, feminist and exciting events: a conference about queer and erotic fanfiction, a book presentation by its author Dolorès Maillant and a reading about lesbian correspondences by the collective "Where We Belong". And that does not end there! After our T-Tutorial, you will know everything about testosterone injections. The Crazy Circle will welcome you all three times for the exposition "I am Us", two concert evenings with four women groups, a lesbian quiz and a karaoke! For the closing party of the festival, you will be covered in glitter and dance all night with MISSFITTE and Dance Divine!
The L-Festival in brief:
Since is creation, the goal of the L-Festival has always been to shed light on queer women, create space for and with them, appreciate lesbian/bi/trans* art from all artistic disciplines and to connect the different queer women's movements.
The L-Festival 2020 is in collaboration with:
huisvandeMens, equal.brussels, la Ville de Bruxelles, VGC, Pink Screens, Misfitte, Crazy Circle, TULITU,  L-Tour, CHEFF, CHE, Tels Quels, Jacques Frank, Sing Out, beursschouwburg, EL*C, MAC de Mons, Go to Gynéco, FatPositivity, corps.cools.