In the picture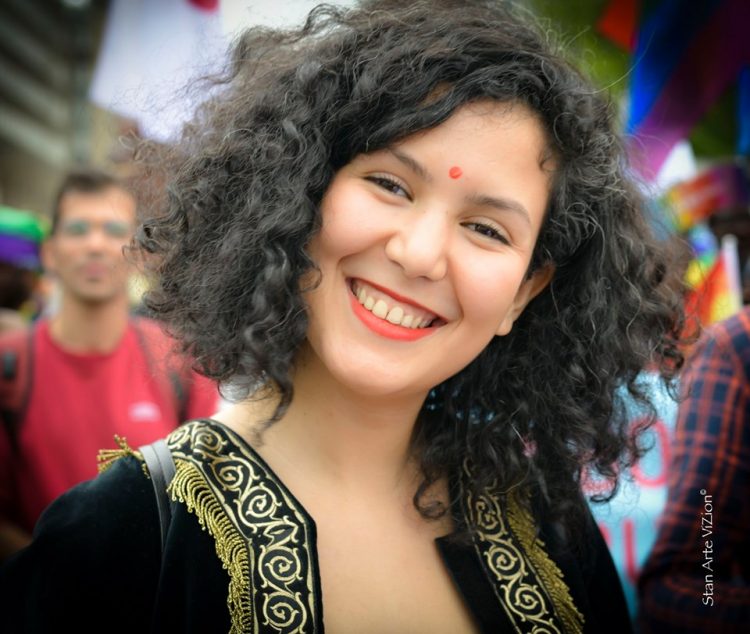 INTERVIEW WITH Oumayma, communication manager
published on 18 September 2019
This summer, RainbowHouse Brussels presents its amazing team. Thanks to the expertise acquired over the years, our organization can carry out its various missions.  Our development issue to the work of a dedicated, competent and versatile team. Discover the RainbowHouse's range of sociocultural and political projects through its employees!
Tell me your story?
Before I debarked at 42 rue du Marché au Charbon, I first got to gain experience in the private sector. Regarding my academic career, I studied Communication in Brussels and Ghent, but also in Peru, as part of an Erasmus Mundus. I am currently completing a Master's degree in Political Science at ULB.
I have always felt close to the associative world. Like many of Brussels young people, I went to the Youth Center in my neighborhood during all my adolescence. There, I was initiated "to the popular arts" and I became a member of a theater troupe. It was for me the opportunity to talk about taboo themes and to go beyond a form of censorship present in my social environment.
More generally, I was an precocious feminist. I soon realized that we lived in a system shaped by inequalities and that I was part of the oppressed genre. It was out of the question to sit idly by. So I organized my first actions alone or with friends in the public space. Later, I became involved in a political organization where I participated in the launch of a feminist campaign: R.O.S.A (Resisting Oppression Sexism and Austerity).
What is your job at RainbowHouse Brussels?
My position is very diverse: externally, I take care of the development of strategies to optimize the visibility of the RainbowHouse, its projects, its services and its actions. I am in charge of the realization of communication campaigns, press relations and digital communication. Internally, my task consists improving the communication to facilitate the exchanges within our associative network.
I also coordinate the political work of our organization and take care of making our demands known to the media, political institutions and parties. The 2018-2019 elections have been intense periods. Today the work is not finished. We need to ensure that our demands are taken into account during this legislature, with a government which is still in process of formating. During political events such as demonstrations, collective actions, the Pride festival, I also represent our organization. 
The RainbowHouse also has a foothold in the educational sector. I am the contact person for the CAW Brussel (Het Centrum Algemeen Welzijnswerk) where I make sure that the LGBTQI + themes are tackled in a transversal way. I also carry out interventions in the school environment in collaboration with the foundation Ihsane Jarfi or Huis Van de Mens. We are specialized in LGBTQI+ and intercultural themes. Lastly, since August, I am giving trainings with my colleague Oliviero in the centers for asylum seekers.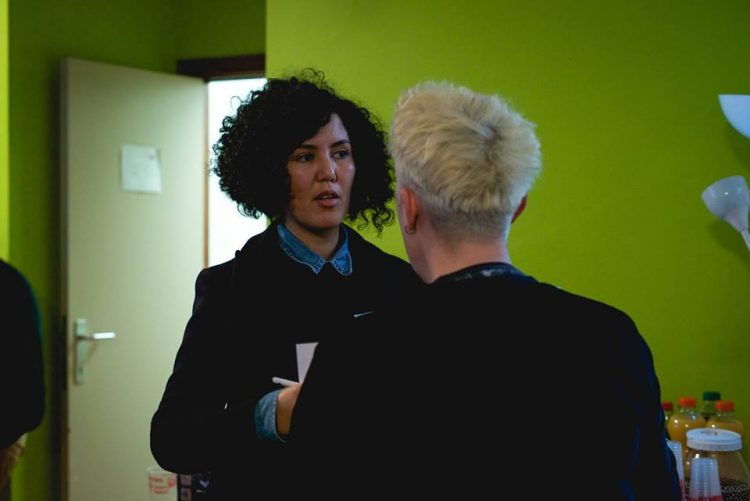 L-Festival: Oumayma and Delphine are preparing for an interview. @Natacha Hostyn
What do you like most about your job?
Communication is a broad and ever-changing discipline and that's what I like best. The RainbowHouse is a trilingual and even multilingual organization that adapts according to contexts and periods. This aspect makes that my work never gets boring, but also represents a great challenge in my everyday work.
I am particularly stimulated by the varied and cosmopolitan aspect of our organization. I really appreciate the fact that we work with multiple populations. Moreover, I hope that the types of strategies that we use have not only an impact in Belgium but also elsewhere: the collective work of knowledge transmission is precious and a powerful tool. 
What are your next highlights?
Of course, my work is punctuated by the different events and projects of the RainbowHouse.
At the level of the global communication, we aim to make a large distribution of our equipment. We will reprint a large number of RBH posters and leaflets to post them in different places (universities, cultural centers, medical houses, bars, cafes …).
In December, I organize a Movement Day for our 64 member associations. This is an opportunity for the various associations to meet in a friendly and warm environment to exchange, to refresh old links and create new ones,  to network and have fun!
And of course, I have more than twenty Fedasil and Red cross centers all around Belgium to visit!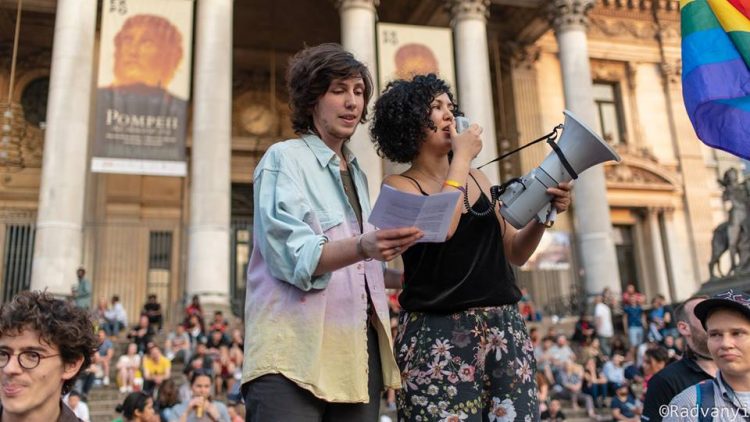 kiss-in against LGBTQI + phobias in Brussels