$newtitrefr = str_replace(" ?", " ?", $letitrefr); ?> $newtitrenl = str_replace(" ?", " ?", $letitrenl); ?> $newtitreen = str_replace(" ?", " ?", $letitreen); ?>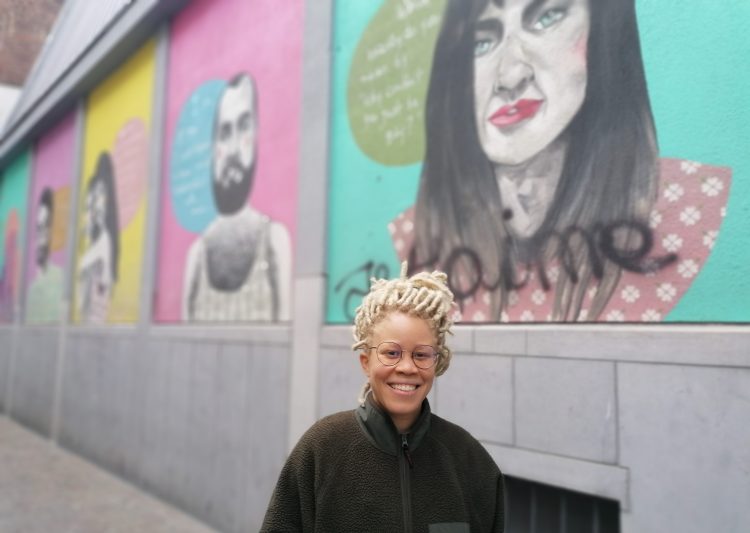 Interview with Raïssa, project manager for InQlusion
First of all, tell us a bit about your background.
I was born into a Congolese family. That is an important aspect of who I am today: a black woman, but also with the cultural richness of that mixture of two continents. The same cocktail that you find in Brussels, a vibrant and exciting city thanks to its diversity and many different identities.
I studied law at UCL and then specialised for two years in mediation within an inter-university project. I want to remain aware that studying at university is a privilege, which sometimes narrows your view. That is something you must not lose sight of when taking a stand. You must always know from which position you are speaking and with which means, and not forget that there are other visions and worlds that have just as much right to exist. To be able to broaden your view of the world, to work together, to be inclusive.
For me, law is simply one of the many tools available to citizens. I want to put my knowledge of it at the service of my convictions and of greater social justice. Mediation responds to the need not to set positions against each other ad infinitum, but to look for common ground. Taking different points of view into account in order to achieve a concrete result in terms of coexistence. Both on a small and large scale.
However, I also think that sometimes it is not possible, some things are not negotiable. I am thinking of the fight against LGBTQI+phobia, sexism, racism, validism, discrimination based on social origin and all those different but linked forms of discrimination that make daily life unbearable for a lot of people and often involve a lot of violence. Making some places inaccessible because they are not inclusive.
It is out of interest in all these things that I worked for three years as a trainer in a non-profit organisation for lifelong learning that works on raising awareness of citizenship. There I had the opportunity to work with people from different age groups and social backgrounds. I loved the contact with the public, I learned together with them and it gave me the opportunity to reflect on my own position in this violent, but also rich, complex and changing society.
Between all these academic and professional experiences, I also got the chance to travel and see different parts of the world. My encounter with Brazilian students and the fact that they accepted me during the occupation of their university (against the reforms of the Temer government that Dilma Roussef had defeated in the middle of her mandate), profoundly changed my relationship towards social issues and struggles, identities and travelling. That will always be one of the most striking experiences of my life. It was the starting point for many things, especially the idea that in the end we have to make do with what we have and what we are, but that you have to stay true to yourself and go for it to the full. That in order to really meet someone else, you always have to ask the question again, who we really are and who the Other really is. Otherwise, no authentic and equal contact is possible.
It is by seeing the commitment of these young people to their country – an attractive country in many ways, but also very complex, especially for a foreigner like me – that I really began to ask myself questions about our country, Belgium, and the place I want to occupy in our society.
Can you tell us about your job at RainbowHouse?
Within RainbowHouse, besides the team tasks and the things we are all working on, I am mainly responsible for the InQlusion project, within what is called "éducation permanente" (permanent education program).
My job is to accompany LGBTQI+ asylum seekers. They are confronted with the violence of both migration and their LGBT identity for which they fled their country. They are at the heart of my work, both when I give training courses to raise awareness among the different social partners about this specific issue, and when I am in direct contact with them, in group activities or individual conversations.
My predecessor, Oliviero Aseglio, has done a lot of work on this. He laid a very good foundation for me to build on. I would like to continue his work, provide more visibility for our public and fight for their safety and development, despite the difficult circumstances in which I meet them. Of course, I am not alone; in addition to a great team, I can also count on the help of very committed and competent volunteers.
What do you like most about your work?
Without a doubt, the fact that I have the opportunity to do a meaningful job that motivates me enormously. Sometimes you have to be careful because there is such a fine line between work and personal commitment that you can easily lose yourself in it. But I'd rather have that than a job that doesn't interest me and is ultimately only about making money.
At the RainbowHouse we can really set things in motion and that drives me enormously, those opportunities to do something and to have an impact, not me personally, but me as a member of this institution.
I am also very proud to be working in a place that is committed to fighting discrimination and is therefore constantly questioning its own way of working. Moreover, it doesn't remain abstract because RainbowHouse is also a place where you can meet people. Where you can get to know other members of the community, because we don't always know each other very well. The acronym LGBTQI groups together very different experiences, identities and social positions – allies and friends are also welcome, as well as anyone who stands behind us. It's also a place where people can take a breath, just be themselves for a while, and that's important in a society where there is still a lot of work to be done for everyone to feel safe and free, anywhere and at any time, despite all the progress that has been made. This is possible within our walls and we must do everything we can to ensure that this house remains a refuge and a place of belonging for all the people it represents.