$newtitrefr = str_replace(" ?", " ?", $letitrefr); ?> $newtitrenl = str_replace(" ?", " ?", $letitrenl); ?> $newtitreen = str_replace(" ?", " ?", $letitreen); ?>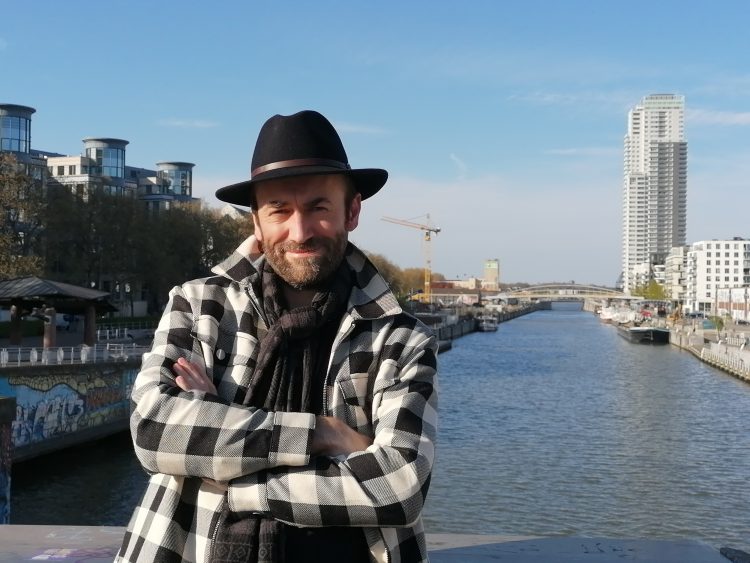 Interview with Jean-François, general coordinator
Tell us briefly about your background and personality.
If I had to sum it up in a few word: the non-profit sector . For many years. To unite, to form alliances, to walk the road together. I had my first life as an artist, in the theatre. A long time ago. Not just entertainment, but committed theatre that questions society. In short, theatre that plays an essential role, as we say nowadays (not often enough). I have also worked in a cultural centre and in Brussels schools.
Then the social aspect came more to the foreground by working with adults with mental disabilities. Then I did health promotion and a documentary in the DRC and finally, for a long time, permanent education in an activist movement. Always a mix of working in the field and management with which you have to juggle to negotiate or simply to survive.
I see myself more as a generalist than as a specialist, or a specialist in generalities (laughs) and I am rather a conciliatory person. I avoid fractures, my activism is rather pragmatic, which does not mean that I am not determined in what I fight for. I also like a balance between debate and action.
Why this interview at this place in Brussels?
We are here on one of the banks of the canal, at Tour & Taxis, a few metres from the Susan Daniel bridge that is now being built. For my inauguration photo – a tradition at RainbowHouse – I chose this symbol, strong in many ways.
First of all, there is the desire not to confine ourselves to the Brussels Pentagon, but to decentralise. This bridge behind me is also part of a major project of feminisation of public space, which we all need to participate in regardless of our gender, and it bears the name of a prominent LGBTQI+ figure. Suzan Daniel was an important Belgian lesbian activist who started the gay and lesbian movement in Belgium in the 1950s.
The canal also forms the dividing line between two different parts of Brussels and the symbolism of the bridge, of the crossroads between different spaces and different groups, just fits very well with what I imagine coordinating to be like in general and my job at RainbowHouse in particular.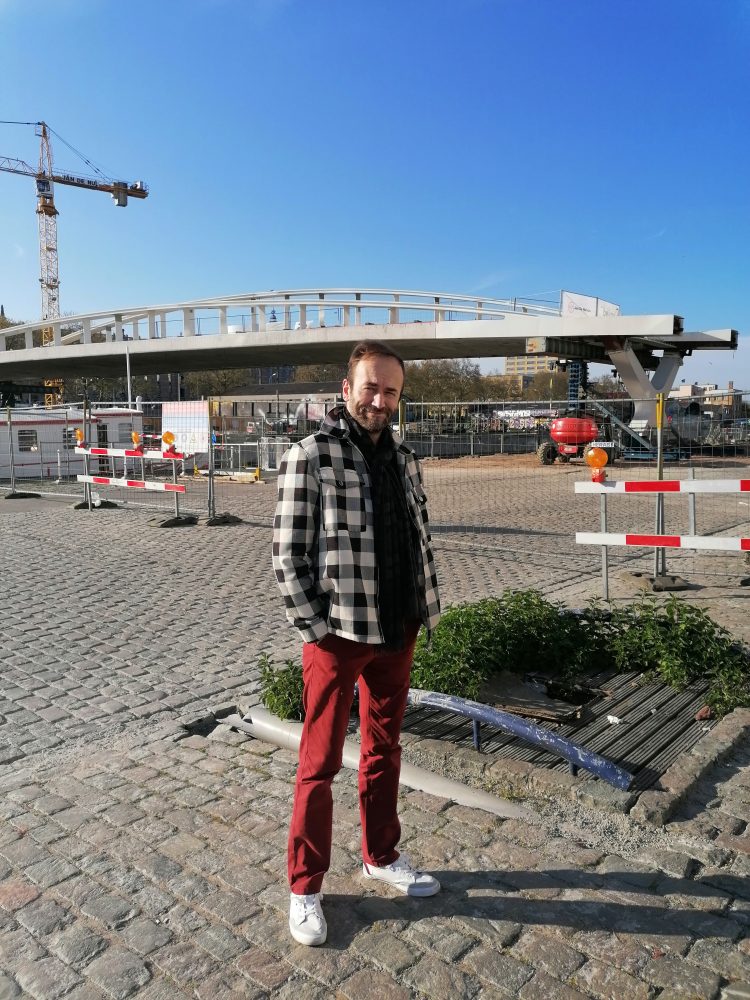 The Suzan Daniel bridge under construction
What does your work at RainbowHouse involve?
The general coordination is very varied. There is the guidance/support of a nice and partly new team, there is the management of resources and the search for new income, sometimes also telephone reception to answer questions for information, concerns, internship applications, … the representation to partners, to administrations and to the press. Accounting, communication and finally – very important – the relationship with the affiliated associations and the board, because that is essential for the functioning of the umbrella association.
So a lot of tasks, but we can count on motivated and committed staff, volunteers and board members. And fortunately, not everything has to be done at the same time.
What are your projects, the near future, the challenges?
To begin with, there are a number of priority dossiers. Work on stabilising the organisation's income. Even after so many years, we are still dependent on a lot of one-off and little structural income. We need to reverse this trend, especially now that in times of epidemic, the balance is disturbed. It also brings a lot of uncertainty and discomfort to the team, so strengthening their wellbeing a bit is not a luxury.
In a few months we will also be celebrating the 20th anniversary of the umbrella, as soon as there are easements: organising different events and promoting the member associations. And also work to make social, psychological and cultural services available to members of the LGBTQI+ community, because once we get out of the lockdown, the need for that will be particularly great. Our phone is ringing off the hook.
In terms of challenges, I would say there are colossal things at stake. To begin with, the resumption of public life after the lockdown, and all the questions this raises about our way of living and thinking. There is also the complexity of representing a diversity that is not yet always and everywhere visible. For I must always remain aware of the position from which I speak, belonging to one of the minorities that are in fact the majority and the most visible: it will take a lot of energy to rebalance things, to avoid divisions or deadlocks.
At the political level, I will have to ensure that the demands of the member organisations are put forward, also by updating our memorandum with the follow-up of the action plans of the different levels of power. Current events were also fierce and dramatic: the day before I took office, a homophobic murder was committed in Flanders, cruelly reminding us that nothing is acquired for LGBTQI+ people, not even in Belgium.
In general, what motivates you, what sets you in motion?
What sets me in motion is, above all, what outrages me. And then ecstasy, … floating (laughs). Things that worry or affect me are, for example, exploitation in general and the inequalities that are linked to it. Often because of a lack of information among exploited people. This is one of the strengths of lifelong learning: providing keys, grids to read society so that people can emancipate themselves, look at it critically and liberate themselves.
The desperate calls we receive daily from both young and not-so-young people who are struggling with their identity and the rejection they often experience are also an important driving force.
Finally, the rejection of difference – be it sexuality, identity or anything else, or rather, the inability to bring together a multitude of normalities. Because in the end, who is different from whom, what does that mean? Because of a lack of information or learning processes, we end up assuming only one frame of reference, one dominant norm (the heteronormativity, the patriarchal model, …) while there are so many possible identities and orientations that can exist side by side. This is where I try to put pressure on politics, the media and society in general. In the RainbowHouse this is happening, collectively and with good will.
What if you were a hero/heroine?
Ah, now we come to Proust (laughs). Oh, I don't know, maybe a manga character from my youth. Albator, for example. As a pirate, but also as "someone of his word". A bit idealistic and also a traveller. Beware of my cosmo dragon…